Dragon's Crown Review
The Bottom Line: For fans of old school beat-em-ups, collecting loot, or local co-op. Those with a PS4 Pro and a 4K TV should also consider picking this up, as the game's artstyle lends itself well to the higher resolution.

One thing that makes remasters interesting is to see just how a particular game has changed over the years. Dragon's Crown is fascinating because mechanically the game shows absolutely no signs of aging. In fact, Nick's review from 2013 still describes the experience you will get now. The six classes remain diverse and varied, offering their own unique experience and encouraging to replay and try them all. The depth in the mechanics and level design remain just as deep now. The art style is still not for everyone, but gorgeous from a technical standpoint, especially now in 4K.
There are a couple tweaks and missed opportunities, however. Bugs have been fixed, there are improved camera controls, and the option to play with the D-Pad are all present. Unfortunately for the sake of uniformity, Pro lacks a few tweaks which could have really let it go above and beyond. Online still takes hours to unlock for those who just want to play co-op with their friends. The thief character is still present as well, requiring the player to use the right analog stick or touch pad to unlock treasure chests, disrupting the flow of the game. While the game does allow online with both PS3 and Vita, I wish these changes could have been made.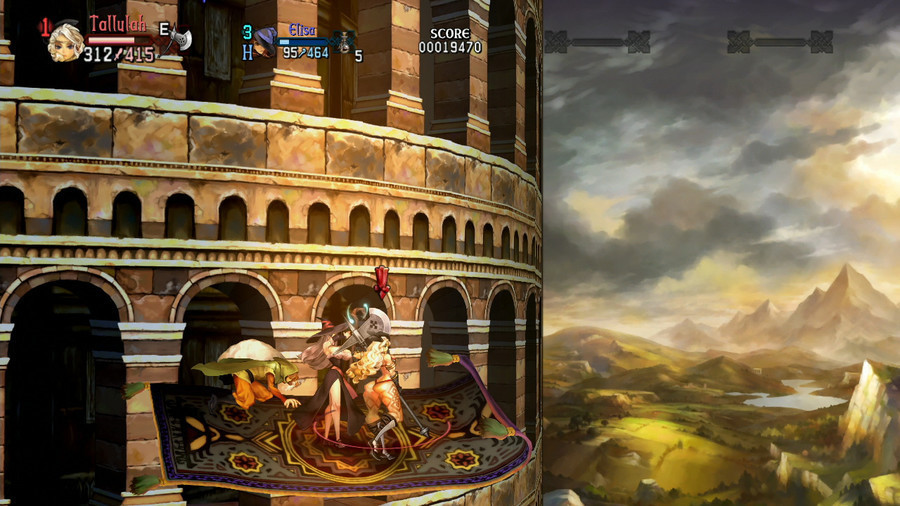 I tried a new class this time, after giving the Elf and Amazon a go back when I originally played it on the Vita. I tried the Dwarf, who I would recommend to anyone playing solo. He offers a very jack of all trades esque skillset, primarily focusing on close combat with an option to throw his weapon and punch enemies until picking it back up. Bashing enemies feels as satisfying as ever while collecting loot helps the game move above and beyond the standard beat-'em-up fair.
Despite being the same game, however, Dragon's Crown ends up fitting much better on the PS4 than it ever did on the PS3 or Vita. Each of those platforms had a greater plethora of 2D beat-'em-ups to choose from, as the genre received a renaissance on the early days of PSN. Many of those games such as Scott Pilgrim, Castle Crashers and Double Dragon Neon have yet to make it to PS4 and it doesn't seem like that will change anytime soon. Similarly, options for local co-op are less common on the PS4 than its competition (particularly the Xbox One thanks to backwards compatibility), allowing Dragon's Crown Pro to fill a niche on Sony's eighth gen console far better than its previous pieces of hardware.
Fortunately, however, Dragon's Crown is not the kind of game to pick up just to fill a niche. The game is gorgeous and looks even better for 4K while offering far more depth than is usually seen from the genre and provide plenty of content and replayability. Dragon's Crown has stood the test of time to prove itself as an absolute classic.