Dragon's Crown Review
RECOMMENDATION:

Beat-'em-up fans shouldn't miss this one.

They say beauty is only skin deep, but this is just not the case with the latest output from Vanillaware. Beyond the gorgeous visuals, Dragon's Crown offers layers of complexity on top of what is typically a very simplistic genre. Side-scrolling beat-'em-ups have largely stagnated since the days of the arcade, but George Kamitani and company have grafted on dungeon crawler attributes as well as the company's signature deep and fluid combat systems to create something wholly unique. Quests, loot, and frequent leveling make it hard to pull yourself away from this finely crafted adventure.
Despite offering all of this depth, Dragon's Crown is quite conscious about not dumping it all on the player at once. In the very first level, you're offered a simple tutorial that explains the various attacks you have at your disposal, which naturally differ across the game's six unique characters. It also showcases how you open chests and scour the environment for hidden treasures that increase your score, money, and experience at the end of the level.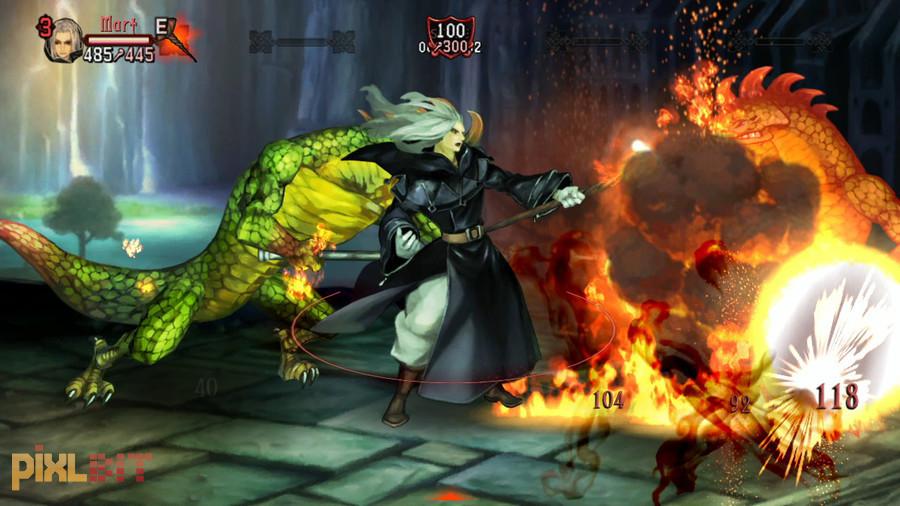 I started as the sorceress, which is recommended for expert level players. While I managed to make my way through the first level and best the first boss, it wasn't exactly a simple task. Using magic and running out of MP mid-battle left me vulnerable; clearly I needed a companion to cover me in the times when I was exposed. My wife Chessa jumped into the fray as the amazon, which was a great pairing as she is a melee based character that could get up close and personal, allowing me to stay out of the direct line of fire. Understanding the mechanics of teamwork and playing to each other's strengths is one of the most basic layers of depth offered by Dragon's Crown.
The levels are also significantly deeper than your typical beat-'em-up. Branching paths, hidden rooms, creatures you can ride on, and environmental events/effects all vary up the simple left to right scrolling we've become accustomed to. Some light puzzles even spring up here and there if you're paying close enough attention. Once you join the Adventurer's Guild, you'll also unlock quests, which will bring you back into the game's nine core levels to perform specific actions.
As you open chests in each level, you'll unlock gear that will improve your various stats. However, the gear must be appraised to be used, so you must often make a judgment call on whether or not it's worth the appraisal fee to enable the gear for use. Luckily each piece of gear is categorized from S to E to give you a general idea of whether or not it's any good. While it's a fairly simplistic system, it proved to be both interesting and fairly exciting due to the gashapon-like nature of it.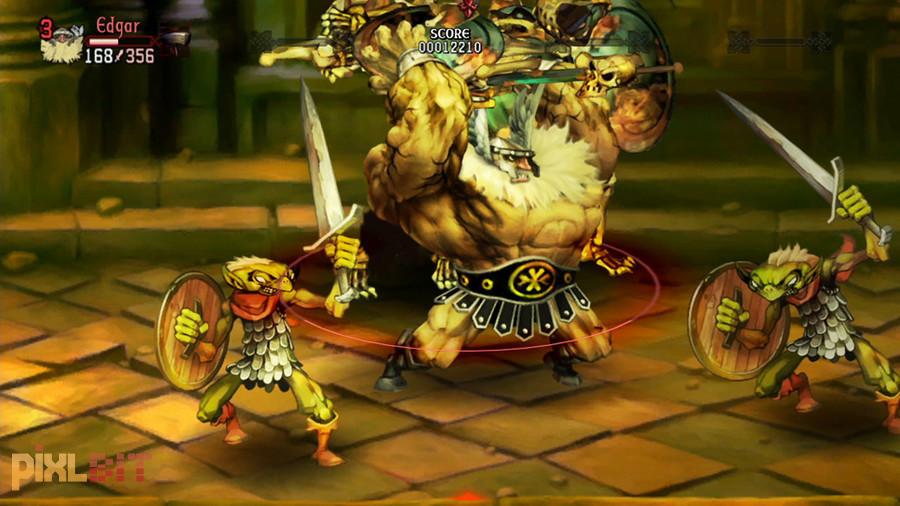 Another in-level collectible that plays a bigger role in the game are the bones. Scattered throughout each level, you will retrieve the bones of fallen warriors. Back in town, you can resurrect them for a small fee and bring them with you on future adventures. When online mode eventually unlocks, you can pick up the bones of human players who died during online play and use them as NPCs in your team of four. Like the Souls games, it's a unique way to incorporate online players outside of the obligatory online co-operative play.
Of course, the game does go even deeper, as you're able to add new skills to your repertoire, level up your character many times (35 in the first playthrough, up to 99 in NG+) and use runes in the environment to cast spells, but I think you get the point. This is not a simple beat-'em-up and there's quite a number of systems at play to keep things fresh and interesting, including two incredible boss fights per level.
For all it does right, Dragon's Crown does suffer from a few missteps. When you manage to get four characters on the screen, all performing crazy maneuvers, along with a full swath of enemies, things get a bit too hectic. It's easy to lose track of what's going on and you can wind up dead without even realizing you were being attacked in the first place.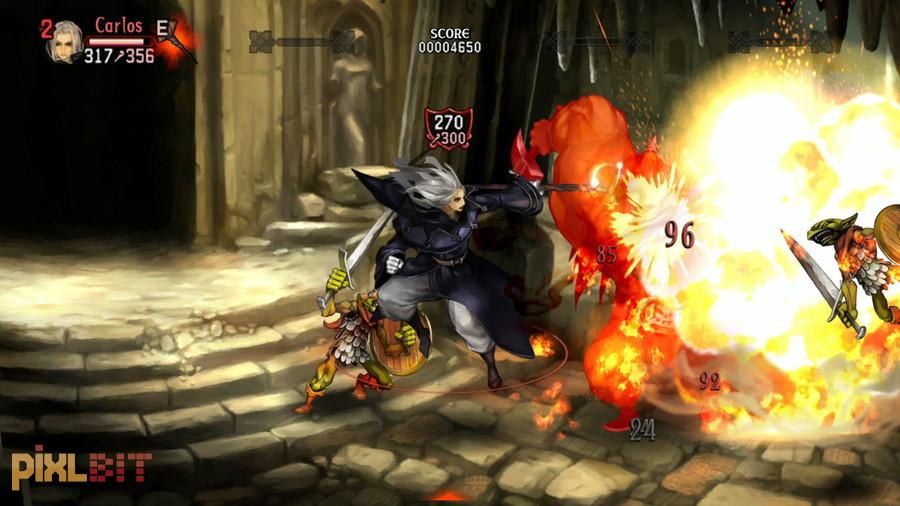 There's also the general issue of the planar- based combat and not being perfectly aligned with your enemy when attacking. This can become a real issue during boss battles when things become chaotic and you need to score a direct hit. Not being able to use the D-Pad also compounds this issue and can often result in performing slides or other moves you don't want because you aren't perfectly directing the stick in the necessary direction.
Finally, connecting online can be a little slow at times. Once you get into the level, things run nice and smooth, but the initial jump can take a little while. This may be a result of primarily playing with Japanese players at the moment, but it's hard to say right now.
I can't complain too much though, because I just can't pull myself away from Dragon's Crown right now. Since we first turned it on, Chessa and I both have been hopelessly addicted. The gorgeous artwork, the compelling depth, and the smooth combat make for a modern beat-'em-up that won't soon be forgotten.