Aura-Aura Climber Review
RECOMMENDATION:

Recommended for everyone.

When it comes to titles priced at 200 Nintendo DSi Points ($2) on the DSi Shop most of them are either simple applications or recycled content from existing retail titles. It's rare to see any new, unique games on the DSi Shop in that pricing bracket that are also fun and engaging. Thankfully Nintendo's latest DSiWare title, Aura-Aura Climber is quite possibly the best $2 game on the service.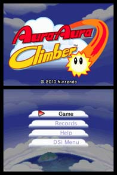 In Aura-Aura Climber you control a star named Aura-Aura that crash landed from the heavens down into a planet. In the game you will attempt to help the star get back to his proper place in the sky. While on the journey players encounter various enemies and obstacles that will impede their path.
When you boot up the game for the very first time you are immediately taken to the game's tutorial, which will of course teach you the basics. While some tutorials can be bland or tedious, this tutorial is extremely transparent due to its brevity and simplicity.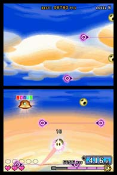 In the game, you simply climb up to higher elevations in the sky by reaching grapple points with Aura-Aura's grapple arm. Most grapple points in the game are stationary and have no subsequent action after being grabbed. Others however will do things like make you float slightly above the point or launch you in a specific direction. As you progress in the game players are introduced to enemies and other hazards.
Once the rather short tutorial is completed players have access to the game's two main modes: Score Attack and Endless. In Score Attack you will play through various levels with the goal of trying to score as many points as possible before you reach the final grapple point that ultimately completes the level. In Endless, you try to climb through the sky as high as possible before time runs out.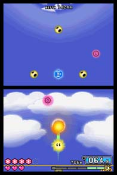 As I played through this title for the first time I was surprised how addictive the game was despite its simplicity. I was also surprised how polished this game was from the solid controls to the fantastic presentation. For a game of this nature, tight and responsive controls are a must, and Aura Aura Climber delivers. The subtle touches of the presentation were what impressed me most. For instance, as players reach higher elevations, slowly escaping the planet's atmosphere, the sky gets darker until players eventually enter outer space.
It's hard to say anything bad about Aura-Aura Climber as it doesn't really have any major faults. I had a lot of fun playing through the game and at times I found the game to be more enjoyable than numerous downloadable or even retail games that I have played. If you own a DSi and want a cheap game that is both addictive and contains a lot of replay value, do not hesitate in downloading Aura-Aura Climber.