Doritos Crash Course Review
RECOMMENDATION:

It's free, I think you know what to do.

If you were to ask me last week if I'd be writing a piece on a Doritos sponsored game, I'd have laughed at you - but here we are. No, Chester Cheetah is not in my house holding me at gunpoint at the request of the Frito-Lay company (SOMEBODY, PLEASE SAVE ME!) to write something on their latest release. I'm here to tell you about Doritos Crash Course because it's an honest to goodness, fun game. Even better, it's free.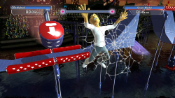 Yesterday, two Doritos brand games were released to the Xbox Marketplace for the whopping total of zero Microsoft Points: Harms Way, which was awful, and Doritos Crash Course. Crash Course is developed by Behaviour (formerly A2M) and their wholly-owned subsidiary Wanako Games.
The title is, more or less, a video game representation of American Gladiators, or perhaps something like Ninja Warrior. The avatar of the participating player is placed at the beginning of an obstacle course, and they must be directed to the finish line as quickly as possible.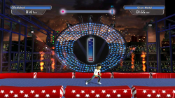 In order to get there, players are required to make precision jumps, and perfectly time each move in order to successfully pull off the daring, fast-paced stunts. At your disposal, aside from basic running and jumping, is the ability to dash by holding the L or R trigger, slide by holding down while moving, and ducking by holding down while not moving. Jumping from a slide will perform a super jump, which is helpful in skipping platforms or reaching higher parts of the level, especially when used in conjunction with the dash.
This is probably going to come as a huge surprise, but Crash Course is highly reminiscent of Donkey Kong Country. With the exception of the roll, players can do all of the same moves, and while the slide is not quite the roll, players can use the super jump move from the slide to perform the same type of long jump seen in Donkey Kong Country. Avatars also seem to have a little bit of grease on their shoes, making surfaces a bit slippery, which is also similar to Nintendo's Donkey Kong Country.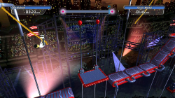 These similarities carry even further into the gameplay. While the game is set on obstacle courses, it's basically a front for really challenging platforming levels. With fifteen levels in the game, there's a pretty solid chunk of content for players to complete, especially if they are looking to earn gold medals
Each level is broken up into segments, and separated by checkpoints. Of course, to the player it's one continuous flowing experience, but the checkpoints serve to reduce replay of the same level sections to a minimum. See here's the thing, you're going to die… a lot. Though a Doritos sponsored game, this one is serious business. As a matter of fact, it's so serious that it basically has a variant of the Super Guide built in. Of course, it just skips you to the next checkpoint so it's not quite as robust, but it will allow players to take a mulligan and skip past the tough parts of a level. However, doing so will eliminate a player's time, forcing them to try the level again in order to earn a gold, silver, or bronze medal.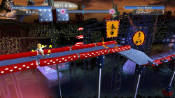 Now, back to the gameplay. The obstacle courses are full of a wide variety of fun challenges as well as numerous hazards and mechanisms. On the hazard side of things, there are two types of swinging hammers; ones that swing high and can be ducked under, and others which swing low that can be jumped over. Often times these are placed back-to-back in quick succession, forcing players to run by with striking accuracy. If they get caught on the front side, they'll be smashed into the screen, whereas if they're hit on the back side, they'll be thrown into a pole.
There are also conveyor belts that move at slow and fast paces, both in forward and backward directions. These are found at varying orientations and are most often used to make a particular set of jumps more difficult at the very end. Sometimes, they are used in conjunction with projectiles that knock you backwards, forcing you to jump over and under the hazards while running against a conveyor belt in addition to progressing from one conveyor belt to another. Then just for fun, they'll throw a super fast one pointing in the forward direction right at the end, hoping you go careening off into the water below.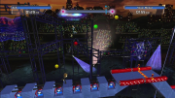 Sounds pretty familiar, right? It gets even more familiar when you start seeing both hanging and swinging ropes. A number of level segments require intense running, jumping , and grabbing of many different ropes in order to reach the next checkpoint. You'll even see segments where moving too fast will send you over a rope, forcing you to keep a slower pace in order to progress.
As the levels go on, they become progressively more challenging. By the time players encounter the very last level in the game, even with all their learned experience throughout the latter levels, it's unlikely that they will come in anything other than last place for the first few attempts. Challenge of this magnitude was not expected, and not only was it refreshing but it was an absolute blast to play through. Last night, I found myself replaying levels till somewhere around three in the morning trying to earn all gold medals, though there are some levels I'm not even sure I can do that well in.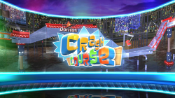 If the Donkey Kong Country parallel isn't evident enough, one of the levels in the game is called Jungle Gym Hijinx, a small spin on the name of the first level in DKC, Jungle Hijinx.
Not only is the game fun, but it has a ton of charm and character. Your avatar typically dances around before and after levels, which is especially funny to see when a visage of you is doing a perfect Michael Jackson impression. As you run through the level, your character always seems a bit inept, making it extra funny when he gets pounded by the various hazards. Sometimes when you jump off the edge, he'll even bust out a dinky little umbrella that keeps him suspended for a moment, and then quickly turns inside-out dropping him into the water below. It's all very Wile E. Coyote; who wouldn't like that?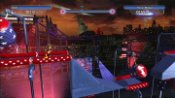 Rounding out the experience is both an online and offline multiplayer mode that allows players to square off in a race to the finish line. This isn't much different from the core experience provided for a single player, so it doesn't add much to the game.
Though Crash Coruse is, as a whole, well done and plenty of fun, there are some pitfalls to the experience, in a less literal sense. Some of the precision stuff is a bit tough due to the slipperiness of your character, and there is a strange delay that sometimes occurs when trying to make small movements. Because of these mechanical issues, getting through certain segments can be particularly tough. However, I can't recall more than two or three places where this gave me trouble, but it's worth mentioning if you are the type to take the levels slowly.
Of course, it's only a total of fifteen levels, and if you aren't the type to go for the gold, the experience is not going to last more than an hour or two. The level of difficulty is also so high, it's probably not suitable for younger children.
The way I look at it, Doritos Crash Course is a free game, so you have nothing to lose if you have an Xbox 360 and can download it. It's an incredibly fun experience for a little freebie game, and by the time I finished it, I was hoping they'd release an expansion, because I'm certain I'd pay for it.