Choose the Winner: Sh*tty Game Review Fest 2014!
Now that all of the reviews have been posted, you, the reader can choose this year's winner.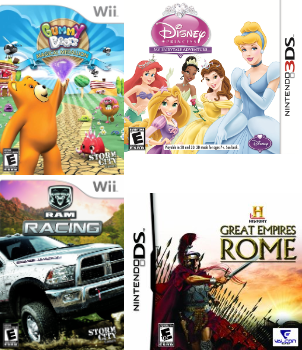 Well, PixlBit's first Sh*tty Game Review Fest is officially in the books and from it, we've received four outstanding reviews. Julian Titus told us about ancient aliens, or was it something about Rome? Who can remember, but what we know for sure is that it didn't involve Matt R's travels through Wii shovelware via a Dodge Ram. And while a Dodge Ram is pretty manly, I'm not sure it grows the beard quite like playing dress-up with Chris and his Disney Princesses. Word's still out, but I think Matt Snee might've torn out his facial hair attempting to make Gummy Bears jump.
But now that all of these reviews have been presented to you lovely bunch, and entertained me in great ways, it's time for you all to vote on your favorite. Who wrote the best sh*tty review? Who will reign supreme until our next festival? Check out the poll below, vote, and let us know who's king of the excrement.
Which review from Sh*tty Game Review Fest 2014 was best?
Log in to vote!
Until next time!