Five Things Mass Effect Could Improve On
The key to the future of Mass Effect is in its past.
Item 2: I Didn't Know That I Could Do That, So I Didn't
BioWare's solution: take out half of the options for using ability points and put the skills on a universal cooldown.
I recommend Mass Effect to everyone I know. I've had to teach every one of those people how to play the game, because it does a poor job of educating players. I've talked to so many people that just play the game like a subpar shooter, and end up seriously disliking everything except for the conversation bits. But that first game offers a plethora of ways to tackle each encounter, and you're rewarded for exploiting your abilities to the fullest.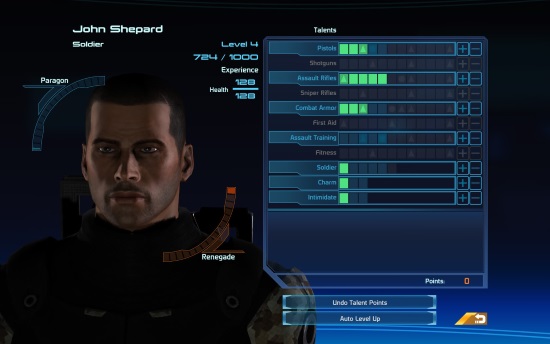 So many options for leveling up!
I play Mass Effect in pause mode almost 50% of the time, because I'm constantly queueing up skills for all three of my party members. I'm using Garrus to sabotage the krogan mercenary's weapon (doing damage over time and overheating his gun), while Tali hacks a geth trooper to fight on our side. While all of that's going on, I'm throwing a singularity into the rest of the group of enemies, making them easy pickings for my upgraded pistol. I handle each encounter with precision and skill, but I had to learn that on my own.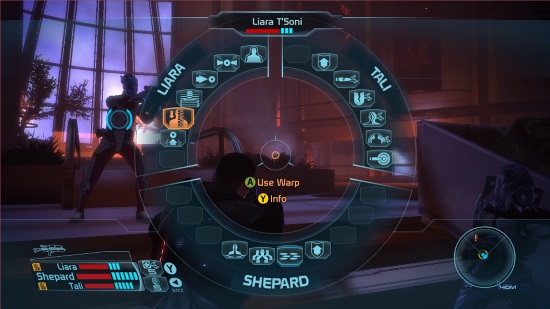 The level of tactics available in ME 1 is impressive still.
Since people had a hard time coming to grips with Mass Effect's ability system, BioWare removed a ton of options for the sequels. Take a look at the level up screen from ME 1 and compare it to 2 and it looks like something is missing. To add insult to injury, you can no longer elect to put points into charm or intimidate; conversation options are based on your paragon or renegade levels. This takes away a lot of character customization, and gives players a very cookie cutter experience. In Mass Effect 1 I was able to keep a party member alive because I took the time to max out my conversation tree, but a more offensive player won't have this option. It's about having choice and having to deal with those consequences.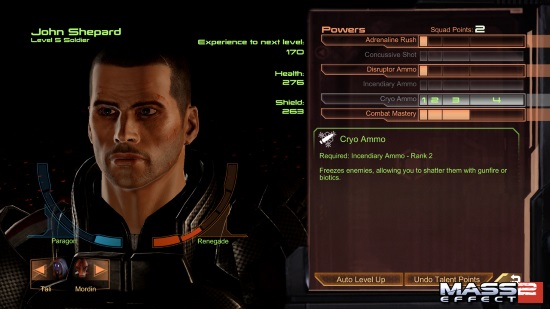 Compare to Mass Effect 2. Something's missing...
My solution: give players freedom to choose.
There was no reason to strip out so much of the RPG skill tree just to make things easier for players to grasp. What was needed was a better tutorial system. While it's true that Mass Effect 2 is a better shooter than the first game (more on that in the next item), it is less fun to play if you are used to managing the skills and abilities of your team from the first game. This is a fundamental issue I find with a lot of games these days, where the developers don't trust the players with too much choice. Having ten things to level up allows players a lot more freedom to tailor their experience to their liking than only having five things to deal with. And if some players find that overwhelming it's up to the dev team to clearly define what each ability does and why you might want to select it.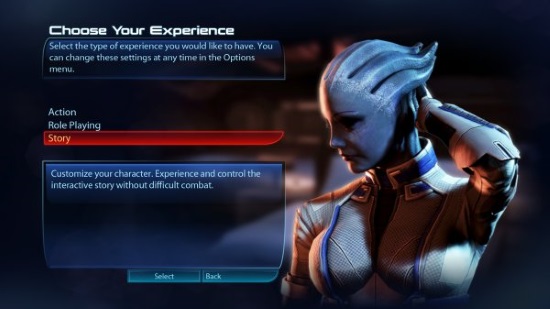 Let us tailor our upgrade and combat the way we tailor our difficulty.
Each character should have abilities and skills that give them a purpose, and within those skills the player needs to be able to decide how they want to specialize their party. If there was actual data suggesting that players were overwhelmed by the number of options in the first game, then perhaps there should be multiple versions of the RPG experience. Remember how Mass Effect 3 had a difficulty setting for people that wanted to focus on the story and didn't want to be challenged by the combat? Something like that could work here, with a truncated version of the skills list for people that don't care about setting ability points. Oddly enough, the upcoming RPG World of Final Fantasy does something similar: by default, the menus map abilities to the buttons like an action game, but you can elect to have a more traditional Final Fantasy menu system. I'm all about player choice, we've reached a point where we can tailor our experience by much more than easy, normal, and hard mode.