Five Things Mass Effect Could Improve On
The key to the future of Mass Effect is in its past.
Item 5: The Mako Sucks
BioWare's solution: no more Mako.
Yeah, I saved the best (worst?) for last. Ah, the infamous Mako. That all-terrain tank is the thing everyone loves to hate with the first Mass Effect, and I'm inclined to agree. Simply put, it just doesn't control very well. I have talked to Halo fans that tell me it works just fine, but coming to it without that experience I found the Mako to be a frustrating land boat to manage. I also find the combat in the Mako to feel all wrong, and that's a real bummer considering how much of it you have to do, especially if you want to see and go everywhere.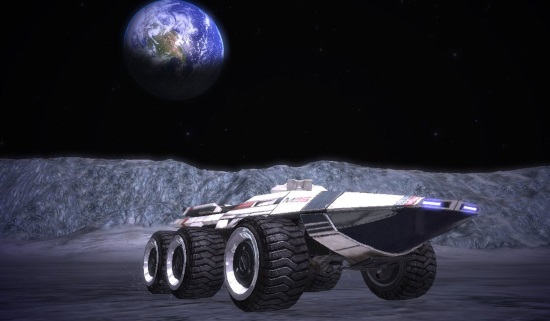 I have a real hate/love relationship with this thing.
This issue is compounded by item 4: the boring design of many of the planets. It's just not very interesting to set down on any planet that isn't tied in to the main narrative, but it should be. So why BioWare opted to completely excise the Mako from Mass Effect 2 and 3 instead of improving on every element of it is beyond me.
My solution: make mine mako!
On one hand, I understand how frustrating reading something like this can be. I'm no game developer, and I'm sure there would be so much work involved in bringing the Mako up to modern code that it was simply too time and cost prohibitive to make it work the way fans wish it would in the second and third games. So when I come up with these ideas I'm not trying to say that they are simple to implement by any means. With all that being said, why don't you just fix the Mako?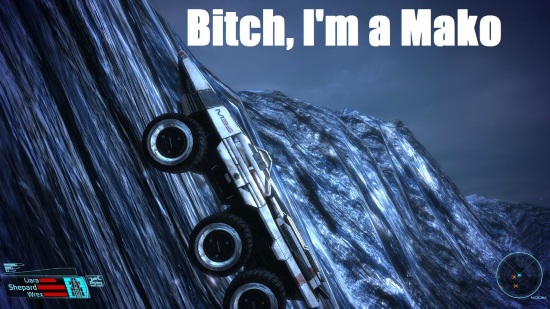 But you can do this, and this is awesome.
I'm a big champion of giving players choice, so the first thing I'd suggest is multiple control schemes for the Mako Mk II. If players want to keep those awkward original controls I say more power to them. For myself, I would be much more comfortable if it handled like a racing game, with the triggers used for gas and brake, and keep the face buttons for weapons. I'd like to see more options for weapons as well. The main machine gun always felt weak, and the cooldown on the cannon could be extra annoying in larger battles.
In fact, I'd make the entire vehicle fully upgradable, with improvements showing visibly on the Mako. There's that sense of progression I keep talking about. You should be able to tweak defense, offense, and maneuverability, as well as adding cosmetic improvements. Instead of having the Mako feel like a chore to get from point A to point B, it has the potential to be one of the best parts of the game.
I love the first Mass Effect, and it's one of my favorite games of last generation. Yes, it has issues, but most of the items I have detailed in this piece have never been a problem for me. I fully understand why so many players consider it to be the lesser of the series, but I think if you take a long, hard look at the franchise as a whole you will begin to see just how much is missing from the sequels from a sheer gameplay perspective. With a new Mass Effect story on new hardware that focuses on an entirely new area of the galaxy I think it's the perfect time to revisit some of the things that made that first game take people by surprise. Will Mass Effect Andromeda feel like a return to form, or will it be a basic action game with very light RPG mechanics (I'm looking at you, Dragon Age series)? Only time will tell, and we should learn more very soon. Until that day, I have my fingers crossed, and look to PixlBit for more on what Mass Effect could be in the months leading up to Andromeda's release.