Nerds Without Pants Episode 132: NWP 2: Electric Boogaloo
It's the sequel that no one wanted!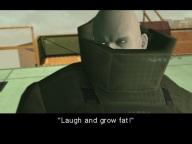 It's another hefty episode of Nerds Without Pants this week that flirts with the 3-hour barrier. Hey, let it never be said that NWP is a poor value proposition!
00:00-04:44: Introduction
04:44-1:31:16: STAGE SELECT: Games that never got a sequel and should have
1:32:37-2:11:03: CONSUMPTION JUNCTION: Patrick's LAN party-not party, Tekken 7, Mortal Kombat X, Detective Pikachu, Marvel STRIKE Force, Fortnite, Torchlight 2 versus Borderlands 2, Mario Odyssey, Resistance (board game)
2:11:45-2:53:12: PAK WATCH: Metal Gear Solid 2: Sons of Liberty (2001) Check out the Digital Foundry video here!
2:53:27-2:56:56 Outro and outtakes
NEXT EPISODE
STAGE SELECT: What is your video game spirit animal?
PAK WATCH: God of War (2005)
SUBMIT YOUR COMMENTS FOR STAGE SELECT AND/OR PAK WATCH BY 7:30 CENTRAL ON APRIL 19
FEATURED MUSIC
Selections from the Project A-Ko original soundtrack: Morning Light, Spaceship in the Dark, Follow Your Dreams, Explosion
Metal Gear Solid 2- Theme of MGS 2