Nerds Without Pants Episode 160: Notice Me, Senpai!
Just some nerds on a quest to find their waifus.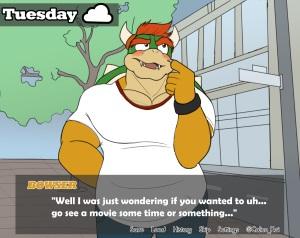 Welcome back to Nerds Without Pants! I'm gonna level with you, I don't even know what the actual heck happened in this episode. Blame Justin and his dating sim shenanigans, I guess. Anyway, Friend of the Show John Gholson™ joins us for a really fun episode, so let's jump in!
00:00-08:40 Intro, Great Game Giveaway winner crowned, new giveaway announced
09:02-1:09:40 STAGE SELECT: What game franchise would you turn into a dating sim, and how?
1:11:32-2:19:11 CONSUMPTION JUNCTION: John Gholson's comedy shows, Red Dead Redemption 2, Subnautica, Vampyr, Call of Cthulu, The Sinking City, Telling Lies, The Gardens Between, Astral Chain, Julian's trip to Boston, Mario and Luigi: Bowser's Inside Story, Control, The Dark Pictures Anthology: Man of Medan
2:19:48-2:47:39 VIDEO GAME CAGE MATCH: Quest 64 vs Final Fantasy VII
2:47:39-2:49:37 Outro and outtakes
NEXT EPISODE:
STAGE SELECT: What are some of your biggest "OH SHIT!" moments in video games?
VIDEO GAME CAGE MATCH: Power Stone vs Ehrgeiz: God Bless the Ring
SUBMIT YOUR COMMENTS BY 8:30 CENTRAL ON 9/18 TO BE ON THE SHOW!
FEATURED MUSIC
Chicago- You're the Inspiration
Dan Fogelburg- Longer
Starbomb- Dream Daddy: A Daddy Dating Sketch
Air Supply- Even the Nights Are Better
Barry Manilow- Can't Smile Without You
Peter Cetera and Amy Grant- The Next Time I Fall in Love