Nerds Without Pants Episode 232: Radio NWP
You're listening to 101.5, The Game, KNWP!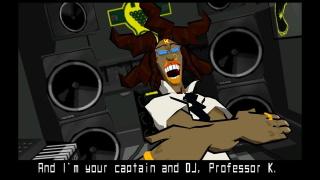 Hey there! This is the craziest Nerds Without Pants EVER! We only got a handful of songs for Stage Select, so instead of talking about 7 or 8 songs and calling it a day we decided to create an entire two hour block of radio programming that approaches UHF levels of insanity. Yep, this is happening. Check it out!
00:00 – 14:27 Go fish
14:27 – 2:40:10 STAGE SELECT: Radio NWP
2:40:21 – 5:40:39 CONSUMPTION JUNCTION: Saints Row, Ghostwire Tokyo, Immortality, Inscryption, Horizon: Forbidden West, Elden Ring
5:41:17 – 5:56:49 VIDEO GAME CAGE MATCH: Dynasty Warriors 9 vs Earth Defense Force 4
5:56:58 – 6:05:47 Outro and outtakes
NEXT EPISODE:
STAGE SELECT: What are some of your favorite mini games?
VIDEO GAME CAGE MATCH: Dr. Mario vs Dr. Robotnik's Mean Bean Machine
SUBMIT YOUR COMMENTS BY 7:30 ON 9/23 TO BE ON THE SHOW!
FEATURED MUSIC:
Reiwa Labyrinth- Hidenori Shoji (Yakuza: Like a Dragon), Axe to Grind- Lyn (Persona 5 Strikers), Theme of M. Bison- Yoko Shimomura (Super Street Fighter IV), The Final Battle- Tsukasa Saito (Elden Ring), Dead of Night- Daniel Olsen (Sayonara Wild Hearts), Your Love is Like a Drug- Garoad (VA-11 HALL-A), City Streets 2 (Mango Tango)- Jake Kaufman (Double Dragon Neon), Right There, Ride On- Hideki Naganuma (Sonic Rush), Let's Go Away- Takenobu Mitsuyoshi (Daytona USA), Burning Hearts Burning ANGEL- Naofumi Hataya (Burning Rangers), Donden- Yoshino Aoki (Breath of Fire III), What's Pink and Sucks?- TrashCanEagle (Kirby's Adventure 2), Baka Mitai- Mitsuharu Fukuyama (Yakuza series), Donkey Kong Rap- Grant Kirkhope (Donkey Kong 64), Rules of Nature- Jamie Christopherson (Metal Gear Rising Revengeance), Follow/Unfollow- OFK (We Are OFK), Savage of the Ancient Forest- Yuko Komiyama (Monster Hunter World), Where We Belong- Yasunori Mitsuda (Xenoblade Chronicles 3), One Last You- Yasunori Mitsuda (Xenoblade Chronicles 2), One More Win- Kimara Lovelace (R4/Ridge Racer), The Last Lord- David Fenn (Death's Door), Path to Glory- Darren Korb (Pyre), It's Dangerous to Go Alone- Jonathan Geer (Cook, Serve, Delicious 3), Roll Me In- Yui Asaka (Katamari Damacy), I Am the Chowder Man- Hot Dad (Hypnospace Outlaw), Real Emotion- Kumi Koda (Final Fantasy X-2), I Am the Wind- Cynthia Harrell (Castlevania: Symphony of the Night), Deep Sea Bass- Danny Baranowski (Crypt of the Necrodancer), Katana ZERO- LudoWic (Katana Zero), Sandstorm- Mick Gordon (Killer Instinct), Fleeting Worlds/Outsider- Keiichi Okabe (Nier Replicant), The Natural Playboy- Hideyuki Tanaka (Bust a Groove), Theme of X-23- Hideyuki Fukasawa (Marvel vs Capcom 3)
Twitter: @NWPcast
Email: NWPcast@gmail.com
Our theme song "Relax" and interstitial tracks "To the Maxx" and "Moody Grooves" are written and performed by Megan McDuffee.