Nerds Without Pants Episode 244: This One's For the Sickos
Be careful what you wish for...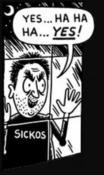 Welcome to the first news edition of Nerds Without Pants, as we go weekly for the first time since our beginning way back in 2012! Join us for a second helping of Consumption Junction, followed by Headlines, and then we close out by hopping on the Email Banana Boat. Get into it!
00:00 – 09:39 Intro
09:39 – 1:34:58 CONSUMPTION JUNCTION: Octopath Traveler II, WWE 2K23, Drums Rock
1:35:25 – 2:31:54 HEADLINES:
Suicide Squad Kills the Justice League delayed: https://www.theverge.com/2022/3/23/22992865/suicide-squad-kill-the-justice-league-delay-spring-2023-announcement-ps5-xsx-pc
Starfield delayed:
https://www.polygon.com/23630506/starfield-release-date-delayed-bethesda
IO Interactive opens new studio:
https://www.gamesindustry.biz/io-interactive-opens-new-studio-in-istanbul
Lance Reddick, from Destiny 2 and Horizon series passes away at age 60
Diablo IV is kinda scuffed
2:32:19 – 2:57:25 EMAIL BANANA BOAT and outro
NEXT EPISODE:
STAGE SELECT: What video game baddies do you love to kill the most?
VIDEO GAME CAGE MATCH: Punky Skunk (PSX) vs Easter Bunny's Big Day (PSX)
SUBMIT YOUR COMMENTS BY 7:30 CENTRAL ON 3/24 TO BE ON THE SHOW!
IN TWO WEEKS: More news, and your emails!
Twitter: @NWPcast
Email: NWPcast@gmail.com
Our theme song "Relax" and interstitial tracks "To the Maxx" and "Moody Grooves" are written and performed by Megan McDuffee.