New Super Mario Bros. Wii PlayBit
Join Nick, Chessa, Jason H, Jason R, and Chris M for our third PlayBit, this time, beginning at 2:00 pm EST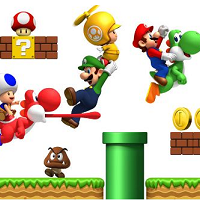 As we all know, E3 is right around the corner. Fortunately, most of the PixlBit staff will be attending the show, and even better, they will all be leaving from the same airport!
With the crew (Jason H, Jason R, and Chris M) all congregating at Nick and Chessa's place, we have decided to do a little PlayBit the day before we head out to California.
Next Saturday (June 12) we will be playing through New Super Mario Bros. Wii with four simultaneous players. We will also be sampling some user created levels as well as the fan total conversion of the original Super Mario Bros.
As the day approaches, we will announce the start and end times, so if you are interested in watching and chatting, please stop back. We will have Skype and Chatango going, so if you have E3 questions, or questions in general, you should definitely attend!
UPDATE: We're starting at 2:00 PM EST! Be there!
Watch live video from PlayBit on Justin.tv

#New super mario bros wii
#Playbit