Nintendo Download: 10/05/2009
This light week reveals one title for each service.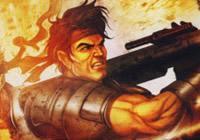 This week's Nintendo Downloads features a mere three titles, with one for WiiWare, one for Virtual Console, and one for DSiWare.
Most notably, this week sees the release of Final Fantasy on the NES. Alongside the release is the awaited Thorium Wars on DSiWare. Finally, Digital Leisure Inc. has provided Word Searcher for WiiWare.