GameStop Now Offering Retro Games for Reward Points
New "Retro Game Vault" section lists new PowerUp rewards for members.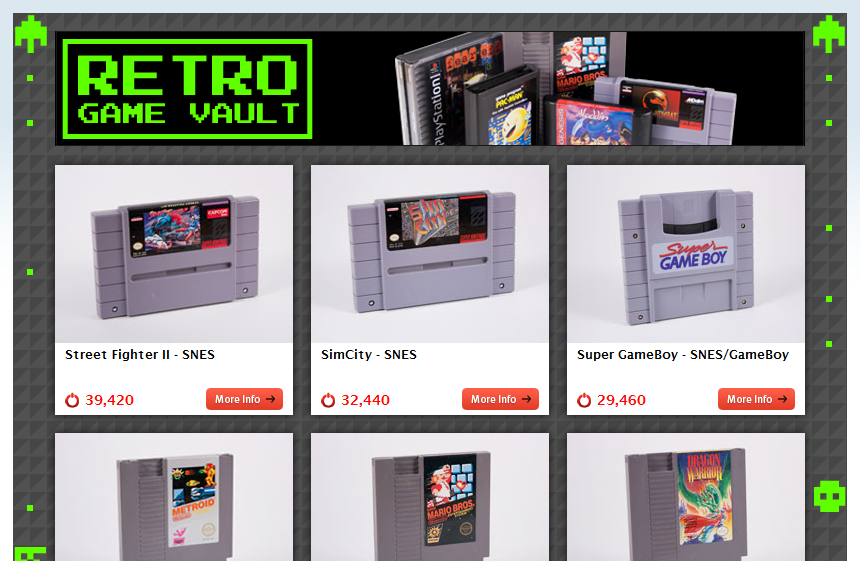 Visitors to GameStop's PowerUp Rewards website may have noticed a new section called the Retro Game Vault. It would appear GameStop is getting into the business of selling classic games for reward points for systems dating all the way back to the Atari 2600. There are even some accessories listed for future availability such as the Nintendo Power Pad and the infamous NES Power glove, which come with World Class Track Meet and Super Gloveball respectively.
There are currently only six games available to choose from, and none of them are particularly uncommon: Mortal Kombat, Super Star Wars, and Killer Instinct for the SNES, and 1942, Spy Hunter, and the Original Mario Bros (not Super Maro Bros.) for the NES. There are an additional forty one listings the site claims will eventually be available, some of which you may not see every day.
Some of these interesting postings, marked with a "Coming Soon" tag, are the previously mentioned accessories and game bundles, a Sega Genesis Game Genie, Quake III Arena for the Sega's Dreamcast, a copy of Donkey Kong for the ColecoVision system, and an SNES Super GameBoy adapter (a device allowing GameBoy games to be played on SNES hardware with color enhancements.) For classic gamers that are part of GameStop's Power Up Rewards program, this should be of some interest.