Rayman Origins Coming to PC
Pre-ordering will nab you a free copy of Rayman 2.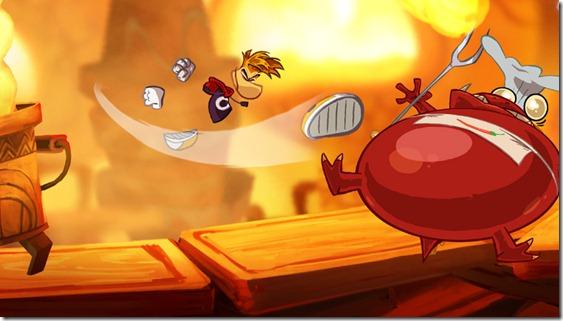 Ubisoft revealed today that Rayman Origins will released on PC on March 29, 2012. The title was originally released on the Nintendo Wii, PlayStation 3 and Xbox 360 last November and will also see a release on the Nintendo 3DS and PlayStation Vita.
Gamers who pre-order Rayman Origins on the PC with "participating online retailers" will receive a free dowloadable copy of Rayman 2. Be sure you can play the game on your computer with the minimum specs below:
Minimum configuration
OS: Windows® XP SP3 / Windows Vista® SP2 / Windows® 7 SP1
Processor: Intel Pentium IV 3.00 Ghz or AMD Athlon64 3000+ @ 1.8 Ghz
Memory: 1 GB Windows XP / 1.5 GB Windows Vista – Windows 7
Graphics: 128 MB DirectX®9 / Radeon X600XT or GeForce 6800GT
DirectX®: DirectX 9.0c or higher
Sound: DirectX 9.0-compliant sound card
Recommended configuration
OS: Windows® XP SP3 / Windows Vista® SP2 / Windows® 7 SP1
Processor: Intel Core2Duo E4400 @ 2.00 Ghz or AMD Athlon64X2 3800+ @ 2.00Ghz
Memory: 2 GB Windows XP / Vista / Windows 7
Graphics: 256 MB DirectX®9 / Radeon HD 2600XT or GeForce 8600GT
DirectX®: DirectX 9.0c or higher
Sound: DirectX 9.0-compliant sound card