Theatrhythm Final Fantasy DLC Dated, Priced in Japan
We get a glimpse of what DLC will be like on Nintendo's 3D handheld.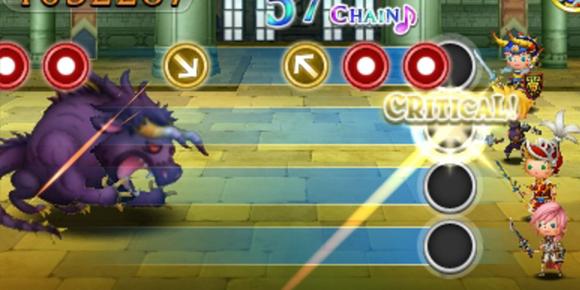 Nintendo is starting to take baby steps into the realm of paid DLC. One of the first titles that will take advantage of this new (to Nintendo platforms) feature is Square Enix's Theatrhythm Final Fantasy. The rhythm game will allow users to download additional songs to their 3DS.
According to Sinobi via Andriasang, the DLC starts day one in Japan, February 16, with eight songs made available. Each song will cost ¥150 (approximately $1.95). The list of available songs for download are as follows:
Final Fantasy II Battle Scene 1
Final Fantasy IV - The Final Battle
Final Fantasy IX - Fighters of the Crystal
Final Fantasy XIII - Fighting Fate
Final Fantasy V - Hikari wo Motemete
Final Fantasy VII - Cosmo Canyon
Final Fantasy VIII - Ride On
Final Fantasy X - The Dream Will End
In addition to this initial listing, Square Enix has plans to release new songs for download every 2-3 weeks. This DLC pricing and scheduling hasn't been confirmed for North America or Europe, but it will likely remain similar if not exactly the same.
Stay tuned to PixlBit for more information on Theatrhythm Final Fantasy, including our review when the game releases in the states in the next few months.