Epic Mickey: Power of Illusion Revealed (UPDATED)
The latest Nintendo Power has unveiled the new 3DS title.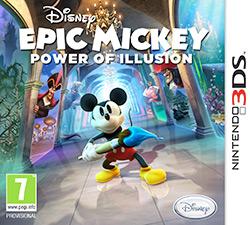 UPDATE: The game will be a sequel to the Sega Genesis title Castle of Illusion and will feature drawing items and weapons with the stylus. Levels will consist of classic Disney cartoons and movies as well as recent releases such as Tangled. The original story as posted on March 26, 2012 is as follows.
A new tie-in game for the recently detailed Epic Mickey 2: The Power of Two has been revealed on the latest issue of Nintendo Power. The brightly colored cover shows that the new game will be called Epic Mickey: Power of Illusion and is coming to the 3DS. The issue of Nintendo Power hits stands on April 3, 2012.
The subtitle of the game seems to be a nod to the Mickey Mouse games Castle of Illusion and World of Illusion on the Sega Genesis and Land of Illusion on the Sega Game Gear. The title is being developed by Dreamrift, the same studio behind the DS game Monster Tale, but no other details are known including a release date.