Steel Diver Preview
One of the more unique games to launch with the 3DS.
Steel Diver has a rather odd history. Originally a Nintendo DS tech demo, the game appeared to be one of those neat concepts that never came to fruition. A generation later the game is set to release as a 3DS launch title.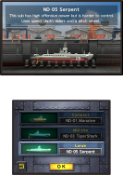 The game has players piloting a submarine through treacherous terrain and obstacles by using dials on the touch screen to change directions, alter speed, and fire torpedoes. The game begins slowly with only minor challenges but farther along things heat up with deadly attacks from destroyers above, angry sea creatures, and enemy submarines. Combined with environmental puzzles requiring you to find ways to clear the path ahead, Steel Diver seems to have a decent variety of challenges for gamers to tackle.
There are three primary play modes available. In Mission Mode you navigate terrain and hostile units from a side-scrolling point of view while attempting to reach your goal. This seems to be the main portion of the game and where most players' time will be spent.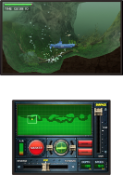 The second is the Periscope Strike where you are in the first person view, targeting enemy ships on the surface through the periscope. The most fascinating part of this mode is the utilization of the 3DS gyroscopes to aim. You aim by moving around in the real world. Conceivably, sitting in an office chair and spinning in circles to target the enemy ships would be an effective way to play this mode.
Steel Commander, the final mode, is a two player turn based strategy game that sounds very similar to Battleship with chess-like elements. Here you'll try to locate enemy ships from a top-down viewpoint and then enter Periscope Mode to sink them. The only option for multiplayer is local WiFi with no online option available.
At first glance, the game appears deceptively shallow, but deeper examination reveals a potentially charming and engaging 3DS launch title. Look for a comprehensive review in the coming week.