Epic Mickey 2 Details Revealed
Hope you're a fan of musicals...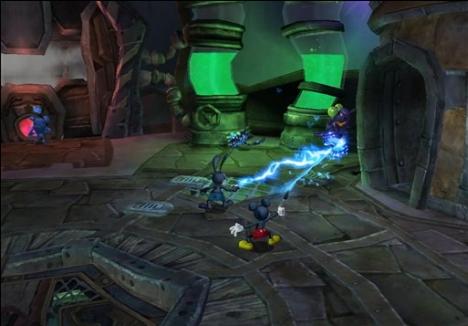 The decision to make Epic Mickey's characters silent was a deliberate one. Warren Spector created the unique Disney adventure game on the Wii as a homage to the silent cartoons that served as his inspiration. This decision, for better or worse, will not be repeated in the recently announced sequel now officially called Epic Mickey 2: The Power of Two. Not only will the characters be voiced, but they will sing and dance as this next game is considered a musical.
"I'm such a geek about musicals," said Spector at the recent GDC in San Francisco. "I love the co-op and next-gen stuff, but for me, when a character breaks into song, which they do on a regular basis in this game, it's magic."
Composer Jim Dooley and lyricist Mike Himelstein, who recently teamed up to write the music for the forthcoming animated film "Dorothy of Oz" are in the process of creating original compositions and songs for Epic Mickey 2.
As the title suggests, the game will have a focus on cooperative play and a friend will be able to assist the titular mouse on his adventures through the use of Oswald the Lucky Rabbit – a character originally co-created by Walt Disney before Mickey Mouse, but was lost in 1928 in a contract dispute. In 2006 Disney regained control of the whacky rabbit and gave him a starring role in the original Epic Mickey.
"It's drop-in, drop-out co-op," revealed Spector. "You can sit down at any time with a friend who is playing as Mickey, or you can take control of Oswald. If you're playing as a single player, Oswald will be there every second of the game. He's not just a multiplayer character."
The game takes place in the Wasteland once again and, as in the original, the player's actions throughout the game will have an effect on how everything plays out – more specifically the songs and music will reflect whether Mickey is played as a wholesome or "mischievous" character.
Fans will also be glad to hear that the camera has undergone a massive overhaul – being one of the biggest gripes that many had with the original.
"We've had a team working on the camera from literally the day we finished the first game," Spector admitted. "They'll be working on it until the day we ship the second game. (There have been) over 1,000 specific changes made to the camera. Our goal is that you will not have to touch the manual camera controls even once to play through the main story path of this game."
Epic Mickey: The Power of Two is expected to ship later this year on the Wii, PlayStation 3 and Xbox 360.
Source: AP