Dark Souls to Slay PC Gamers This August
While PC gamers celebrate, Demon's Souls on the PS3 will rage one last time into the night.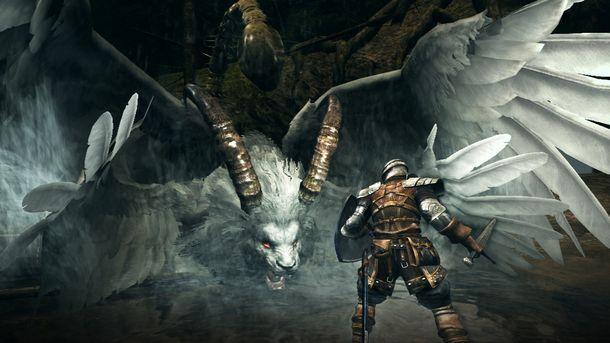 Dark Souls, the spiritual successor of the surprise hit Demon's Souls, has been lauded by many a gamer for its brutal and unforgiving difficulty – a feature that has separated the game from the more regular AAA fair that was released last year. It's a game designed specifically for the hardcore gamer, but it hadn't yet been able to call the most hardcore of platforms, the PC, home. That is, until now.
Namco Bandai has been persuaded in part by an online fan petition to bring Dark Souls: Prepare To Die Edition to the PC. This new edition of the game will land on store shelves on August 24, 2012 and will include a modified Player Vs. Player mode that will reportedly bring the would-be saviors of Lordran closer together by allowing players to "more closely assemble battles against one another online in an all-out fight to the death."
As a little more added incentive, the PC edition will also include a brand-new chapter to the story called "Artorias of the Abyss." This new chapter will expand the game world and will include everything that you'd expect in an expansion – new secrets to uncover, new baddies to combat and new bosses to get killed by over and over again.
There is no word at this time if any of this content will make its way to the console versions of the game via DLC, or if a special edition will soon be announced.
And in related news, the original death simulator for the PlayStation 3, Demon's Souls, will be going dark at the end of May in North America.
At 11:59pm PST Atlus will officially pull the plug on the popular game that originally went live on October 6, 2009. Those that have been waiting to play the game for whatever reason should take some time to take it for a spin, but this does not mean that there's a time limit on the game's life as Atlus has indicated that the single-player portion of the game will remain unaffected.
Atlus wishes to send the old girl off with a bang and will host two World Tendency events in the game's final month online – one from May 1-15 and another from May 16-31. These events will be determined by fan voting as they have been previously, such as was the case this past Valentine's Day.
Feel free to share your experiences with both Dark and Demon's Souls in the comments section below.