Megatron to Grace the Cover of Madden 13
No, not that Megatron.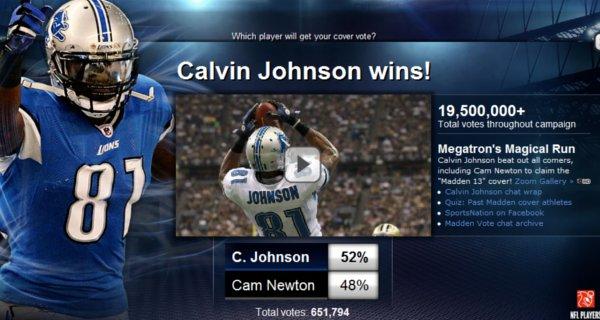 For the second year in a row EA has put the Madden cover honors to a bracket styled vote – a concept that sparked some controversy last year when running back Peyton Hillis of the Cleveland Browns won out over the polarizing Philadelphia Eagles quarterback Michael Vick. This year proved to be less exciting and we expect that there won't be as much disgruntled grumbling this year as Calvin "Megatron" Johnson has been awarded the cover of Madden NFL 13.
Johnson beat out last year's rookie sensation Carolina Panthers quarterback, Cam Newton, by a slim margin of 52% to 48%. EA reports that "nearly 20 million votes were cast during the seven week campaign," beating out last year's numbers and indicating that the Madden cover vote isn't going away anytime soon.
"The campaign is the latest example of what ESPN and EA have been doing for years together to serve sports fans," said Raphael Poplock, vice president of Games and Partnerships at ESPN.
In addition to revealing Johnson's victory at an event in New York City's Times Square, EA released the first game details via the feature Playbook – a site that will deliver further information on the below schedule:
Presentation (released 4/25) — Madden NFL 13 delivers world-class presentation with an entirely new look and feel; plus, new commentators bring the game's broadcast to life.
Gameplay — Part I (released 4/25) — With a revamped passing game and the all-new read and react defensive AI system, Madden NFL 13 achieves greater realism on the virtual gridiron on both sides of the ball.
Audio (to be released 5/14)—Madden NFL 13 delivers a superb audio experience that faithfully replicates NFL Sundays with a new commentary team and the implementation of innovative technology along with unique resources provided by NFL Films.
Gameplay — Part II (to be released 6/4) — A monumental change to Madden NFL gameplay creates the most authentic football experience to date, blurring the line between virtual and reality.
Connected Careers (to be released 6/4) — With Connected Careers, Madden NFL 13 will revolutionize the way sports video game career modes are played.
Madden Ultimate Team (to be released 7/9) — Madden NFL 13 Ultimate Team is the definitive way to experience virtual card collecting with new content and updates that mirror exciting NFL events throughout the entire year.
Madden Social (TBD) — A whole new way to experience Madden against your friends- anytime, anywhere.
Expect more details on this next iteration of the long-going Madden series as we lead up to its release on August 28th.
Think Megatron is the right pick? Let us know what you think of the latest Madden cover athlete in the comments section below.