NCAA Football 12 Review
RECOMMENDATION:

For fans of football and Madden.

NCAA '12 brings improved presentation, similar gameplay, and a few new features to the table this year. While NCAA '12 is a great football game, it doesn't completely outdo last year's NCAA '11.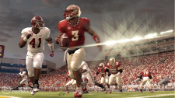 To start, the presentation of NCAA '12 has been geared towards the look of ESPN. EA has tried to make the game seem like you are watching the game live and has added new commentary, pre-games videos, and in-game replays. They have executed each team's tradition by showing Mascots, pre-game rituals, and on- field celebrations. These are some great additions to the experience.
If you are a college football fan, it's nice to be able to see some of these things taking place as you are beginning to control that team's destiny. EA did a great job at doing the little things to make the presentation of NCAA '12 great. Thankfully, you can easily skip through these gimmicks and begin playing football, which is nice for those who aren't into the pomp and circumstance surrounding the actual game.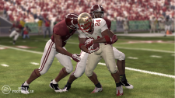 The gameplay of NCAA '12 has not really changed much from NCAA '11. This is not an issue whatsoever because the gameplay of the NCAA games has been great for years. The only noticeable change is the tackling: they've slowed down the pace of the action to make it feel a little more realistic.
As a fan of faster paced football, the slowing down of the gameplay wasn't a welcome change. If I wanted to play a slower version of NCAA, then I would just play Madden. I like the differences between the two franchises and hope this isn't the start of a convergence of the two different types of games. While this new feature sometimes frustrates me, it doesn't cause irreparable damage as the gameplay is still great overall.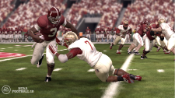 NCAA '12 has also changed the available game modes. The most noticeable change is in the Road to Glory mode. There's no more Erin Andrews which is sad, but the complexity of the mode has improved greatly. The main focus of this mode is to gain your coaches trust. As you gain his trust more and more, you gain new abilities such as calling your own plays, hot routes and eventually being able to audible. I really enjoyed playing this mode in NCAA '11 due to the idea that I was controlling one specific player.
During each week, you have the options of playing the weekly game and/or practicing. Each of these two weekly options allows you to gain XP towards your player. This allows you to buy either career stat boosts, or single game stat boosts. The better you perform, the more XP points you will gain. This is a great idea, but it only took me just a few weeks to become a level 99 player by spending my points wisely. Furthermore, gaining your coaches trust only takes about one year at most to max out limiting your drive to want to continue playing the mode. This mode has improved over the years, but after this year it's clear that it could be better implemented going forward.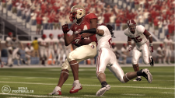 Dynasty mode is mostly the same as last year's game, but there are a few cool additions. This year, you are able to create a coach and eventually turn that coach into a legend by how well your team is able to perform, recruit, and manage the staff. You can choose between being the head coach, offensive coordinator, and defensive coordinator. After you take one of these jobs, you are given a list of goals to achieve during your tenure as one of those three coaches. As you complete some of these goals, your University's trust increases. The concept is to max out these goals and eventually gain full trust to either receive a promotion or a contract extension. From there on, it's all about setting NCAA records.
The Online Dynasty mode has not really changed much at all either. The online dynasty mode allows players to take their team online and even access them through the PC. This allows you to recruit players along with receiving emails from other dynasty owners and it even allows you to write articles to appear on the dynasty as a headline. All of these features can also be used on the iPhone, iPad, or iPod touch. I prefer using the PC for this feature because it is much quicker and easier to use, but still, it's a nice feature because it gives players who don't have access to a PC the ability to access their information.
Overall NCAA '12 almost feels like a repeat from last year, but it still has an undeniable charm. Even though it hasn't differed much from NCAA '11, I've still found myself playing it hours a day. The action is never boring and it's easily the best football game on the market. If you love playing Madden or are a football fan in general, NCAA '12 is highly recommended.