Pre Order Hitman: Absolution and Get an Exclusive New Game Mode
The highest scorer will win a trip to Denmark.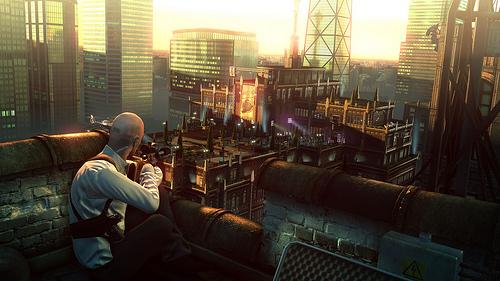 If you're heading into a Gamestop on May 15 to purchase Diablo III or Max Payne 3 (or Game of Thrones-we won't judge), you may want to slap a pre order down on Hitman: Absolution. Why, you may ask? Besides the fact that it's the first entry in the popular stealth action series since 2006, Square Enix has put together a rather unprecedented pre order bonus that's—you guessed it—exclusive to Gamestop.
Pre ordering the game will grant PS3 and Xbox 360 owners immediate access to a special downloadable mode called Hitman: Sniper Challenge. This is an arcade-style shooting mode where Agent 47 is tasked with eliminating the CEO of Stallion Armaments, Richard Strong, Jr., as well as his henchmen. This shooting gallery utilizes score multipliers and hidden secrets as you climb the leaderboards. But there's a more tangible reason to play this exclusive mode beyond the high score and bragging rights.
The top player of Hitman: Sniper Challenge at the time Absolution launches will win a trip for two to Copenhagen, Denmark. Once there, the winners will get to meet the development team at IO Interactive to talk all things Hitman, and even have their likenesses used in the follow up to Hitman: Absolution.
Hitman: Absolution is due out on November 20. Hitman: Sniper Challenge will be available on XBLA and PSN on May 15, and the PC version of this Gamestop exclusive mode will come to Steam on August 1. Check back soon for our preview of this exciting new mission for Agent 47.