PixelJunk SideScroller Preview
The latest entrant to the PixelJunk series will be based around exciting fluids.
With five successful iterations of the PixelJunk series already released, Sony announced a brand new addition, PixelJunk SideScroller.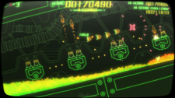 The strategic action shooter is based off of an unlockable level that was featured in PixelJunk Shooter 2. The gameplay of this new title will revolve around a "dynamic fluid simulation system", in which players will have to navigate a world full of hazardous gases and flowing liquids. These liquids will respond in real-time to a player's actions, in addition to a player's interactions with other liquids on the screen.
Like all other titles in the series, PixelJunk SideScroller will feature the signature visual art style of its brethren. The "reinvented" locations will be filled with pixilated "exciting fluids" such as water, metal, magma, etc, in addition to hazards, such as exploding magma.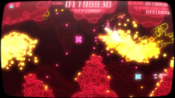 The ultimate goal for players throughout each level is to reach the end, while avoiding enemy attacks and collecting coins to earn points. In order to continuously avoid enemy attacks and successfully defend oneself against the "flurries of alien bullets", players will need to upgrade their weapons strategically. Players will be able to change the weaponry affixed to their ship in order to satisfy multiple strategic preferences. Along with customizing one's ship, players will also be able to find hidden Power Up items that will upgrade their weapon arsenal and "unleash massive destruction". In addition to navigating the level and avoiding hazards, the title boasts "brand new levels and ferocious boss attacks along the way."
PixelJunk SideScroller will be accessible to gamers of all skill levels, as developers Q-Games have included a difficulty setting, along with a generous checkpoint system.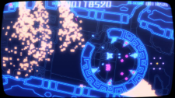 For gamers who enjoy competition, PixelJunk SideScroller will feature online rankings, in addition to YouTube uploading, where players can upload their gameplay footage to show others around the world.
PixelJunk SideScroller has not been rated yet by the ESRB and is expected to release this summer.