Resident Evil 4 - HD Review
RECOMMENDATION:

For diehard fans of RE4, or people who may not have experienced it in the past and don't have a Wii.

Resident Evil 4 on the GameCube was a game that won over countless fans. The game brought the series into a new era with revolutionary gameplay while retaining the series' classic creepy feel. Over the years we've seen many different ports of the game, and this time we see what is likely to be the last version: Resident Evil 4 HD. It retains all of the features from the PS2 and Wii ports along with a graphical makeover which surprisingly is the weakest part of the package. But a great game is a great game, and this HD port is proof.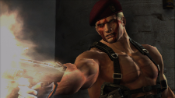 As a game, Resident Evil 4 has always been solid. Players control Leon Kennedy and explore the dark and gloomy areas of Spain looking for the president's daughter, Ashely Graham, who you come to find out has been captured by a strange cult trying to spread a new strand of the T-virus called Las Plagas. As expected, players kill plague infested enemies and unravel the plot as they go. The game has been consistent in that regard with no major additions aside from the ones made in the Playstation 2 and Wii ports, like side character Ada Wong's side story.
The gameplay is largely untouched as well. New button options have been added to make it control a bit closer to games like Resident Evil 5, but overall the gameplay is still fun and precise. That said, I would be lying if I said that it was the definitive way to play the game; the Wii's accurate pointer and motion controls are still superior. Now there's a bit of added horror since you have to aim with the left thumbstick. I do wish that the game let you use the right thumbstick to aim more like in Resident Evil 5, but seeing that this game is a port of a GameCube title, most players should be familiar with its original form.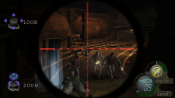 Gameplay is pretty simple; players use the left trigger to aim the laser sight at enemies and use either the A button or Right Trigger to fire (depending on which control option you choose). What makes the Resident Evil series different than most other shooters is that rather than shooting mindlessly at opponents, players are encouraged to aim for limbs and use the combat knife to not only get a strategic advantage over foes, but also to conserve ammo. Weapons and healing items are kept in a box that has a grid-based format, which forces players to carefully manage what they have, which is a subtle but very satisfying detail that creates a certain degree of tension, even in item management. Resident Evil 4 isn't the most difficult title around. There are a few puzzles that are rather difficult, but with a little persistence and patience, players will find that not only do they break up the action nicely, but solving them is very satisfying.
Of course, the big catch of the game is the upscaling into HD, but this is the weakest part of the package. While overall the environments and character models are more detailed, other textures didn't make as smooth a transition; weapons at times look pretty ugly, and many objects that look fine from far away end up looking messy up close. It's clear that rather than give the game a full HD makeover, it's more of an HD filter and it's pretty disappointing compared to how great Resident Evil 5 looks. If Resident Evil 4 HD got that kind of treatment, it would create a perfect package. However, I must say that the game has aged really well and looks fantastic despite its shortcomings in HD.
Resident Evil 4 might be known for years to come as a timeless classic that changed modern gaming. This game introduced a refreshing take on the franchise, while adding gameplay elements like quicktime events that are found in most action titles today. Along with that, the game has memorable characters, especially the Merchant, whose quotes are still funny today, and a creepy and scary aura that further defines what the series is all about. It would have been a lot better if this game received a proper HD remake but based on the quality of the game alone it's still worth it, even at its $20 price point. This HD remake might not be the best version of the game available, but it still is a solid package that I recommend to anyone curious about the series.
Technical limitations aside, the Nintendo Wii version really nailed it in terms of shooting gameplay. Though not in HD, the Wii version's controls bring it to new heights, all while retaining all of the features of the PS2 and downloadable versions. At this point, it can be found for prices as low as $10 -- an extremely good deal that trumps this version.