Sideway: New York Review
RECOMMENDATION:

For those looking for a quick platforming fix, or to see experimentation within the genre.

Sideway: New York is the kind of game that you really want to be good. Its visual charm and unique take on the platform genre make a great first impression, but a few technical issues and a repetitive soundtrack deliver a one-two punch from which it never fully recovers.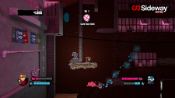 You play the game as Nox, an urban "artist" who gets sucked into a mysterious vortex while looking for his girlfriend. Nox soon finds out that he has been transported to Sideway -- a two dimensional world that exists within the walls and rooftops of his beloved New York City.
At first the game may seem like a generic platformer – Nox can run, jump and punch -- but the unique execution of these elements will pleasantly surprise you. The world of Sideway lies within the architecture; none of its denizens nor Nox himself can exist outside of these walls. This leads to some interesting level design in which you will find yourself standing on top of windows and other solid structures as you move from wall face to wall face. In instances where there is nowhere to go but up, you'll jump from the walls to the roof, eventually finding your way to another wall, billboard, or other connected structure that can be "tagged."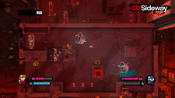 How you first enter a screen will determine which direction is up for playing purposes. For example, jumping up to the roof from the north wall will make the north side of the roof the bottom. However, if you jumped up to the roof from the south side, the north side would now be the top -- effectively creating an entirely different space. This design mechanic introduces a variety of simple puzzles that will require you to approach wall faces and roofs from different angles. It's a clever concept, but unfortunately the game only takes advantage of these built in puzzles on a handful of occasions, the rest of the level being rather linear.
The only real issue I have with the unique level design is how the camera is used. Jumping from one wall to the next can be a rather jarring experience at times and I died on more than one occasion because I collided with an enemy or environmental hazard that I had no idea was there. Other times the camera will be placed at an odd or restrictive angle, giving a poor view of the action that can make it hard to see platforms or enemies. Luckily you have an infinite amount of lives and there is a generous check point system, otherwise this game would be maddening at times.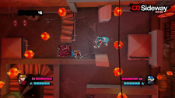 The controls are responsive, even if a bit floaty; Nox's jump is a bit tough to control at times, but this will only be noticeable during platform intense sections that aren't all that common to begin with.
Though enemy encounters aren't as regular as they are in most games in the genre, there is a surprising variety of enemy types present, each with a unique set of attacks and weaknesses. Nox has a variety of different attacks and defensive moves that are learned as you progress through the game to deal with these baddies. The gradual collection of skills and moves helps to keep the player from being overwhelmed by otherwise dumping all of the controls on the player in the very beginning. It would be unfair to expect a new player to remember how to throw a paint grenade while swinging through the air before activating your shield.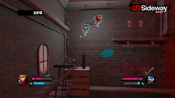 Every three levels or so you'll encounter a boss that must be defeated to progress to the next area. In most games boss battles are delivered in a series of well paced climaxes to keep the player engaged, but that is not the case here. Bosses in Sideway are sadly predictable and are extraordinarily simple to beat once you learn their patterns. Instead of providing key moments of excitement, the battles drag the game down and don't offer the appropriate sense of accomplishment that they should.
When you first boot up the game there's a message letting you know that Skull Candy is responsible for the game's music, which is great because now I know who to blame for this bumbled sound track. It isn't that the music is bad--it's actually well produced--it's that there are only one or two tracks (honestly it all started blending together) in the whole game that repeat over and over and over and over and, well you get the idea... Even at the end credits the same bloody song plays. For a company that prides itself on sound and musical affinity, it's amazing that Skull Candy would, quite literally, turn in such a one note performance.
All in all, Sideway isn't bad, it's just disappointing. Given such a unique turn on a classic genre I really wanted this to be a great experience. Instead it underperforms and delivers a decent but forgettable performance. Trophy hounds and completionists may find some reason to take another tour of Sideway: New York, but I would suspect that most will move on to something else once the credits have rolled.