Wii U Preview
Check out all the features and specs of Nintendo's next generation console.
Finally, the guessing is over, and the rumors have officially been put to rest: Project Café is officially titled Wii U, and the controller does indeed include a touch screen display.
An HD touch screen display, to be precise, intended to allow for a wide variety of gaming methods, as well as a platform to continue playing games on when someone wants to watch TV, or play a different video game on the same television set.
The entire Wii U controller measures approximately 10.5 inches long, 6.8 inches wide, and 1.8 inches tall; roughly the same length and width as an iPad. The HD touch screen display on its own measures 6.2 inches, and has a 16:9 aspect ratio.
The rest of the controller includes many of the same familiar features, such as a D-Pad, A/B/Y/X buttons, Home buttons, L/R buttons, ZL/ZR buttons, rumble, Power button, and Home button. There are also several additions never before featured on a Nintendo controller, which include a gyroscope, camera, microphone, stereo speakers, sensor strip, accelerometer, and a stylus. Unlike Nintendo's Wii controllers, the Wii U controller is rechargeable.
The Wii U core system is powered by an IBM Power-based multi-core microprocessor and can connect with up to four Wii Remote controllers. The system will support connectivity with all of the Wii's input devices and controllers. This includes the Classic Controller, Nunchuk, Classic Controller Pro, and Wii Balance Board. It will be equipped with four USB slots and will also be backwards compatible with all Wii accessories and games.
These USB slots will enable gamers to utilize one of the multiple forms of storage allowed by the Wii U. In addition to an internal flash memory that comes standard with the system, Wii U owners will be able to enhance their memory limits by using an external USB HDD or SD card.
As for the video quality the system will support 1080p, 1080i, 720p, 480p, and 480i resolutions and will be compatible with Component, HDMI, Composite, and S-Video cables. It will feature a single self-loading media bay that will play the original 12cm Wii optical discs, as well as the new 12cm high-density optical discs for Wii U titles.
The audio will feature Six-channel PCM linear output through HDMI and will utilize AVI Multi Out connectivity.
Specific information regarding a price point and exact release date were not revealed, but it will be available sometime next year.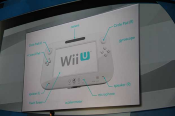 #Wii u
#Project cafe