Kirby Mass Attack Preview
Kirby stars in his first RTS title.
In addition to a brand new Kirby title for the Wii, Kirby Wii, Nintendo has been hard at work on one for the DS as well, titled Kirby: Mass Attack.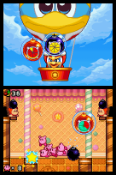 Unlike the majority of other Kirby titles, Kirby: Mass Attack is not an action platformer. Instead the title is actually categorized as a side-scrolling. real-time-strategy game, in which players will have to utilize many Kirbys to solve challenges.
Where did all of the Kirbys (ten to be exact) come from? Well, the story of Kirby: Mass Attack goes something like this: one day Kirby is split into ten different pieces by an "evildoer" who used a magic cane. In order to return himself to his original form, the ten little Kirbys set out on an adventure.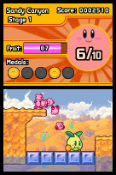 The title will be controlled with the stylus and players will have to utilize their Kirbys in a multitude of ways, both to defeat enemies and to find treasure. For example, in order to send a swarm of Kirbys at an enemy, players must simply tap the touch screen multiple times at the desired locations. Players can even fling individual Kirbys into the air by flicking the touch screen with the stylus.
Throughout the levels, players will discover hidden medals that when found will unlock a variety of mini-games that will each offer its own unique challenge.
Kirby: Mass Attack has yet to be rated by the ESRB, but will release September 19 of this year for a suggested retail price of $29.99.