Virtua Tennis 4 Review
RECOMMENDATION:

For fans of tennis games looking for something more in line with a simulation of the sport (without any of the seriousness).

Virtua Tennis has been going strong at this point for over a decade. Having played every game in the series, it's clear that the gameplay has not evolved much, but that's because the fundamentals that were introduced in the first game were so solid they aren't in need of much more than slight tweaks. Instead, Sega has continued to make the game more fully-featured to help draw in new players. Virtua Tennis 4 is impressive in scope, offering a huge variety of mini-games within the main quest, a solid selection of real life tennis superstars, and a motion control centric mode that works surprisingly well with the PlayStation Move controller.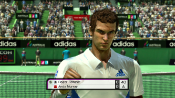 I can't help but talk about the motion control portion of this game first. It's segregated to its own menu option, so players won't be taking use of it during the main quest or general exhibition matches, which does reduce some of its appeal; however, the implementation is extremely engaging. Moving into a first person view, players will be moved around the court manually, reducing the need to perfectly position your player to hit the ball. Instead, you are responsible for angling, positioning, and swinging your racket to hit the ball to a spot your opponent can't reach.
What made the mode so appealing to me was the precise control the Move controller provided. I was able to slam the ball back by swinging overhead or front hand or back hand it with complete ease. In the process of hitting the ball, I could pop it in the air, barely punch it over the net, or slam it to try and quickly throw off my opponent. The first person view accentuated the action and made it more immersive. Though the mode completely reduces the sport down to just one action, it's fun to perform and a great side mode to jump into for fun bouts against an opponent that will get you off the couch.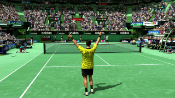 Outside of this mode, the game's other standout offering is the new single player campaign, World Tour, wherein you earn stars and work towards becoming a tennis master. What makes it unique is its board game style approach. Each round (day) you are given a set of up to three plane tickets, each of which allow you to move a number of spaces on the board. Each space on the board is home to different events, each of which improves your character in different ways.
Many of the spaces on the board offer up mini-games wherein you improve different skills and earn a varying number of points, which translates into currency that can be used to purchase items to help you along the way. The mini-games are all across the board, from target practice to picking up chicken eggs. As you complete these challenges, you are able to purchase a specialized style, which will apply to some of your skills on the court during standard exhibition and tournament matches.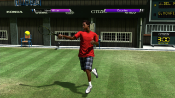 Using the skills improves them, thus allowing you to level up your character and make him a more suitable tennis player. The matches are really the big attraction here, as they provide the stars that are required to be a part of different classes. In general, the mode is a very different approach to such a style game, but it walks you through the experience and gives you some realistic goals to work towards at all times.
My biggest gripe with the mode came from the occasionally frustrating branching paths and your ever decreasing condition. You have to make sure you are constantly resting, just as a tennis player would do in real life, in order to avoid sustaining injuries on the court and decreasing overall performance. Unfortunately, sometimes you are left without a space to land on in order to rest, thanks to the plane ticket system for movement. Just like the board games it is designed after, it's at times a game of chance. If you happen to hit a spell of bad luck it can really cause problems in the quest.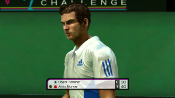 Worse, in between rounds of a tournament, your condition depletes, which can ruin your chances of winning the later, already more challenging rounds. It doesn't make a lot of sense and it produces unnecessary frustration.
The core tennis mechanics seen here aren't noticeably different from Virtua Tennis 3, which is a good thing for the most part. I still find that chasing down a ball when it lands in an unexpected location to be unmanageable. Due to the awkward hesitation when you start moving, it really throws off perfectly placing your character to stop and return the ball. For whatever reason, catching up to the ball and hitting it in motion rarely works. Perhaps that's more realistic, but it seems as if your character should at least return it. Whether or not it actually lands in the right place would be a different story, but at least it would be more fitting.
Whether you are a veteran of the series or a newcomer, Virtua Tennis 4 is a great tennis game. While it's not quite as fluid as Nintendo's Mario Tennis series, it's very similar in its implementation, adhering more closely to a simulation of the sport. The new Move-based exhibitions are a great bit of fun and the World Tour mode is an interesting and engaging departure from the tired match-based career modes.