Luigi's Mansion: Dark Moon Hands On Preview
Luigi's Mansion makes a surprise return in this 3DS sequel.
To be honest, I wasn't the biggest fan of the original Luigi's Mansion. It's not that I thought it was a bad game, but I always thought it was a bit boring. That's why I'm surprised to say that I enjoyed my time with Luigi's Mansion 2. The game seems to be following the same, humorous roots as the original, but expands on them in ways that make it not only accessible, but fun on the 3DS hardware.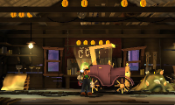 Story details are scarce, but generally, the premise remains the same. Luigi dons the Poltergust 5000 (an upgrade from the 3000 in the original) and creeps his way through ghost-infested mansions. You look around the mansion, collecting money with the Poltergust, and often end up encountering a few ghosts along the way. The player holds down the R button to use the vacuum, and using the buttons or gyroscope can look up and down to aim the vacuum. Luigi also has a flashlight that he can use to stun enemies and during that period, get the advantage over them.
One of the most impressive aspects of the game were the superb graphics and 3D effects. The game definitely looks as good, or better than its Gamecube prequel, and the 3D adds a great sense of depth to the mansion itself, as well as to the effects when in battle with ghosts. Trust me, the game looks great in motion.
Luigi's Mansion 2 definitely gives 3DS fans another reason to be excited about the hardware. Sure, Mario will star in his own platformer, but this game stands out on its own as a game that will bring in new players, as well as satisfy fans of the first Luigi's Mansion. With this year being the original Luigi's Mansion's 10 year anniversary, it only makes sense that this series makes its grand return. Look for Luigi's Mansion 2 later this year; those who can't wait should be sure to check out a full 3D trailer on the Nintendo 3DS eShop.