Killer Freaks From Outer Space Preview
An Ubisoft-styled shooter for Nintendo's new console.
Ubisoft announced their release next year of a Wii U game entitled "Killer Freaks From Outer Space". It's an alien apocalypse game set in 2012 (ha) in which you are planet Earth's primary defense against hordes of disgusting alien invaders. What's left of humanity has been garrisoned in the few remaining unspoiled major cities of the world.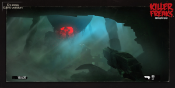 The game is described as a "horror comedy". It sounds pretty tongue-in-cheek, advertising its appeal to "B-Movie fans" as well as those who just like the FPS genre. Bosses will come in all shapes and sizes, but be uniformly repulsive and strange. Weapons will include everything from razor blades to advanced alien technology.
Killer Freaks is an FPS, but the use of the Wii U controller means it will play differently from most. For instance, the touch screen will be used for navigating some menus and will provide "innovative visualization modes" throughout the game. The multiplayer will mainly consist of a 4-player co-op mode reminiscent of arcade shooters. There will, however, also be an RED (Realtime Enemy Director) mode in which one player is essentially the villain. This player can spawn enemies and change other game parameters in a top-view mode (also using the touch screen) while two other players fight back, presumably in the same way as the rest of the game.