Disney Universe Hands On Preview
Jason Ross stopped by the extravagant Disney Interactive booth to play a bit of the upcoming multiplatform title, Disney Universe.
Let me begin by saying the Disney Interactive booth was most certainly one of the most expansive booths at all of E3 this year. There were two main sections aside from the meeting areas, and they were some of the most elaborate and colorful E3 areas here. On one side, was a Phineas and Ferb coffee house, where Disney elected to give away free flavored coffee. Don't ask me how it was, I don't drink coffee, sorry! The other side was made to look like the interior of a house: There was a kitchen, with custom Mickey Mouse and Disney magnets, a computer area, where E3 guests could try out a Disney computer title or two, and then a living room-type area, where Cars 2, Disney Universe, and a few other titles were on display.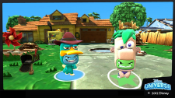 Which leads me to the preview part of this article; Disney Universe is an intriguing Kingdom Hearts-like title, which plans to blend a massive number of Disney and Pixar properties all together. I got to take a first-hand look at how the game played on the show floor. First and foremost, Disney Universe is a four-player action/platformer title with what seemed to be minor puzzles throughout the stage progression. The player's characters are decked out in Disney character costumes that almost look like hooded pajamas. Each character's weapon is based on his or her costume, in at least a minor way. For example, the character in the Stitch onesie (from Disney's Lilo and Stitch) battled using a banjo that later upgraded into an electric guitar! There was also a Tron-based character, and a princess-like character I was unfamiliar with, in terms of Disney properties. The princess's weapon was the most interesting, as at one point, she fought using a fork that had food on the end. In reality, aside from the aesthetics of the different weapons, they were largely the same, though I would imagine each character costume's strength might be different.
The stage was easily recognizable. Remember the scene in Monsters, Inc where all the characters are racing through the door chamber? It featured hundreds or thousands of doors, all flying about in each and every direction. Our Disney Universe stage was based on this segment of Monsters, Inc, though it didn't appear there were any plot or storyline segments introduced at this point in time. The masses of doors were very involved in the stage, but only a few were presented at a time, to introduce some fun, but simple platforming segments. At points, players had to trigger door movements to walk across. Most interestingly, a competitive factor entered in at one brief segment: A moving door pathway could be removed, should a player step on a switch, making crossing impossible. Should a jealous player stay behind, and hit the button while others tried to cross, what would happen? Death to all! Yes, a Zelda Four Swords-style element of co-op/counter-op remains, but to what purpose was not yet illustrated. Thankfully, the stages are designed with a few spots like the one I describe to let players have a bit of counter-op fun. The setting was a faithful, exciting recreation of the source material, though of course the platforms used weren't ripped from the movie, it was clearly a pre-built stage.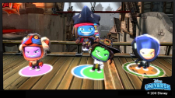 Combat seemed to be a bit repetitive, though characters did control well. Attacking yielded a simple three-hit combo, while holding down the attack button allowed my character to do a ground-smashing attack with a small area of effect. Enemies, in this Monsters Inc. stage, were all dressed like the fiends from the terrifyingly sterile Child Detection Agency. They fought back with what appeared to be toothbrushes, complete with toothpaste. Nothing fancy happened, but I imagine dozens of monsters were at least harmed during our playthrough. Buddy attacks and even tosses were also possible, but I was entirely unable to master them in the span of time I spent with the game. Also noteworthy, each character seemed to be able to double jump, which is always a welcome ability for platforming/action combination titles in my book.
Judging from my own experience with the game, Disney Universe will have a lot of value in the recreation found in the stages. Weapons have a small, perhaps in-stage path of progression, and there are puzzling treasure chests that require a bit of thought and cooperation to unlock, as well. The game is clearly for families and gamers who play together locally, and likely small rivalries will form as players strive to be the one who collects the most Mickey ear-type items through each stage. It's a title I'm looking forward to, despite what might be slightly repetitive beat-'em-up style gameplay, particularly because of the balance of cooperation and competition I could easily see on the show floor.
Disney Universe is due out in the fall of this year for the Wii, Xbox 360, PS3, Mac, and PC.