Sly Cooper: Thieves in Time Preview
Enter the Raccoon...Ninja...Enter the Raccoon Ninja.
Last year saw the release of the Sly Cooper HD Collection on the PS3. The collection was so successful that it provided developer Sanzaru – who handled the development of the HD collection – with an in to helm the next installment in the series, Thieves in Time.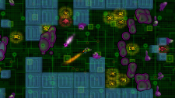 As the title implies, one of the main focuses in Thieves in Time is time travel. Not only will Sly and friends be able to travel back in time themselves and meet some of the ancestors of the Cooper clan, but the player will also have the opportunity to play as some of these characters, each having their own unique personality and ability set.
The first character being revealed to the public is Master Rioichi Cooper, a ninja that fans of the series will recognize from Thievius Raccoonus. Expect to learn much more about the master ninja of Ninja Spire Landing, including the fact that Rioichi is credited with inventing sushi and owns a very successful restaurant that he uses as a cover for his night job. While players may not see this as a major reveal, Rioichi will still provide a new experience for even seasoned players as his abilities have been fleshed out and given some more oomph, like his Leaping Dragon Technique, an ability that allows the ninja to "span great distances between spires."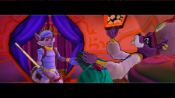 Meeting and even playing as different characters is not a new feature to the series, but the focus on this concept has never been as bright as it is here and will surely help this new installment stand out against its admittedly excellent precursors.
We'll have more information on Sly Cooper: Thieves in Time as it becomes available. The game is set for release sometime in 2012 exclusively on the PlayStation 3.