inFAMOUS 2: Festival of Blood Review
RECOMMENDATION:

For fans of the series and anyone wondering what all the fuss is about.

There has been this perception that Festival of Blood was DLC; that it was some kind of small addition to inFAMOUS 2 which was released earlier this year. It's an easy assumption to make since FoB takes place in New Marais, the New Orleans of InFAMOUS' fictional world and the setting of Cole's second adventure. It would only make sense that you would need to have a copy of the game in order to enjoy this expansion, but the lovely folks at Sucker Punch Productions wanted to gift the entire PlayStation 3 community with this gem and as such released it as a stand-alone title.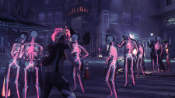 Festival of Blood takes place in a single night during the events of inFAMOUS 2 – Pyre's Night to be more specific – a twisted amalgamation of Halloween and Mardi Gras that celebrates the supposed demise of the mythological vampire, Bloody Mary. Turns out she isn't so mythological after all and our hero Cole is bitten by the vampiric lady of the night and becomes one himself. Cole is doomed to spend the rest of eternity as a vampire and servant to Bloody Mary unless he can stake her through the heart before the sun rises.
New Marais has gussied itself up for the event, donning fittingly macabre decorations such as giant demon head statues, bonfires, and other festive decorations while the citizens celebrate with Roman candles. With monster themed costumes they dance drunkenly in the streets with not an ounce of fear, allowing vampires to walk among them unabated. All of this set dressing equates to an atmosphere that decidedly differs from the New Marais we know from inFAMOUS 2, giving FoB enough room to stand on its own.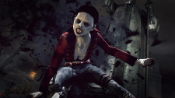 Cole retains many of his powers from the second game and is imbued with a series of new vampiric based powers such as the ability to form into a cloud of bats to fly around the city. Using this new found power is taxing though, and you will have to refresh yourself as vampires do: by draining the denizens of New Marais of their precious blood.
Another new power is a sort of "vampire sense" that allows Cole to see the world in a different way, picking up things he otherwise would have never picked up on. This power is instrumental in finding hidden doors and the various collectables scattered through the city. You'll also be able to identify vampires that are posing as humans, allowing you to stake them before they have a chance to do any harm.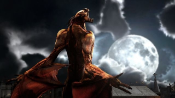 One of the inFAMOUS series' key components has always been the morality system. Good acts are rewarded with certain powers and evil acts are rewarded with others. FoB takes a mulligan on this system and allows you to let your hair down since, after all, Cole isn't exactly himself. Want to run around saving people from roving gangs of fangers? Be my guest. Want to drain the blood out of every person you come across? Knock yourself out. With the morality scale being thrown out the window the city truly becomes your playground in the best kind of way.
The main story itself is not that long and most eager gamers will be able to knock it out in a few hours, but that doesn't mean that FoB is small by any means. There are various collectables hidden throughout the city that will play to the treasure hunter's tastes and there is also the User Generated Content to consider as well. Like inFAMOUS 2, players can create missions and share them with the community. The tool set is exactly as it is in inFAMOUS 2, so those familiar with the series will be right at home with this feature. The addition of these supplementary missions (for which a trophy is attached to as well) will help to elongate what is already a decent sized experience to begin with.
FoB is what a downloadable expansion should be – an experience that can be viewed as supplementary to the larger source material, but also contains enough content to stand on its own. Any fan of the inFAMOUS series would be doing themselves a serious disservice by not picking this up. And at $9.99 even those who have never played the series should be hard pressed to pass this bloody good gem of a game.