Sly Cooper: Thieves in Time Review
RECOMMENDATION:

Long-time series fans will not be disappointed, and those unfamiliar with the gang's past exploits will find still find Thieves in Time very accessible, even if it doesn't really tread new ground.

Mascot games are kind of my thing. Mario, arguably the first ever platform "mascot" (with all apologies to Pitfall Harry and Pac-Man), is the dude that lured me into a lifelong obsession with video games in the first place. I gobble up practically every one I come across and among them the Sly Cooper games have remained a stand-out franchise. With a trilogy of games hitting the PlayStation 2, it seemed only natural that Sly would find his way to the PlayStation 3. But with Sucker Punch moving on to inFAMOUS it seemed any hope of a current generation Sly game would be going up in smoke. Thankfully Sanzaru, developer of the acclaimed HD trilogy treatment, stepped up to the plate and took the series in its charge. Could they regain Sly's former glory?
The answer: mostly.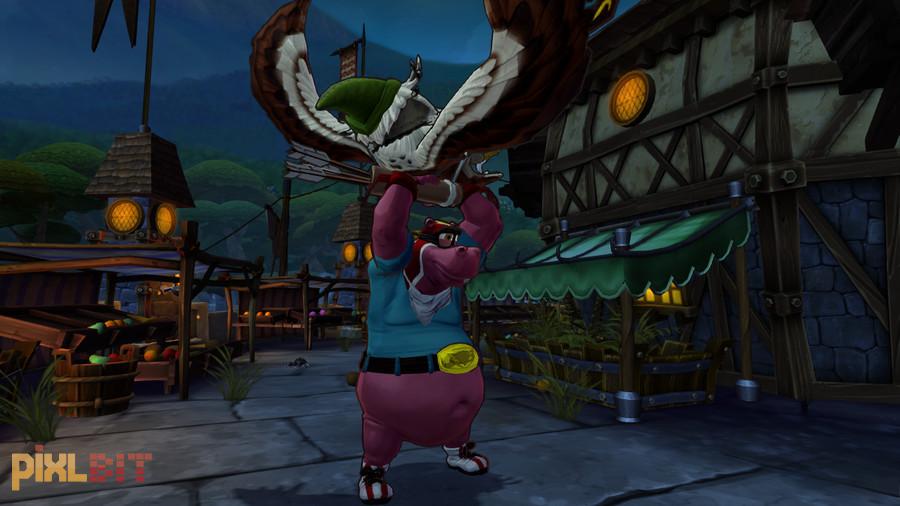 Thieves in Time picks up right where the last game left off. Having faked amnesia in order to slip into a relationship with Carmelita (which sounds all sorts of creepy when I think about it), Sly has put up his trademark cane and mask, seemingly for good. Of course Sly's retirement is far from permanent, and when Bentley discovers that entire sections of the Thievious Raccoonus are mysteriously disappearing, Sly leaps at the chance to partake in some thievery one last time.
In order to find out what's happening to the missing pages, Bentley constructs a time machine using Murray's super awesome van, and the gang sets off on a world tour that spans space and time.
Time travel may be old hat when it comes to video game clichés, but Thieves in Time doesn't offer much up in the way of pseudo-science for you to get bogged down with plausibility. It's an admittedly weak plot device, but completely inoffensive at the same time. It's all expectantly tongue-in-cheek and naturally littered with small references to time traveling classics like Back to the Future and Doctor Who.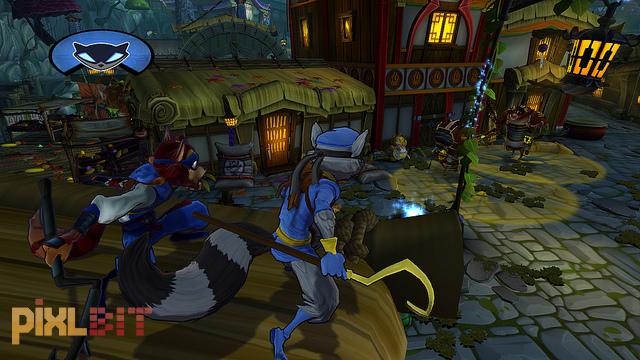 I have to hand it to Sanzaru; they really stepped up to the plate in terms of characterization and story. The Sly games have greatly improved in this regard from game to game and Thieves in Time continues this trend, offering some of the most touching and funniest moments in the series thus far. Sly in particularly has come a long way since his rather boorish portrayal in the original, especially when he gets to use his "fantastic Italian accent!"
It's immediately apparent that the folks at Sanzaru have a great love for this franchise. Their treatment of the HD collection alone is proof enough (it's certainly one of the best HD collections ever produced) and it shines through here. Longtime Sly fans will find Thieves in Time a comfortable fit - aside from the monkey logo that displays as the game loads, you'd think that Sucker Punch was still at the helm.
That said, there is such a thing as adoring the source too much. In most respects, Thieves in Time is indistinguishable from other entries in the series. Mission structure mimics that of the second game, while the game's many collectables are a sly combination (see what I did there?) of bottle and treasure hunts from the first and third. Sly, Bentley, Murray, and even Carmelita control and have virtually the same move sets that they did in the last outing. It's not that these elements don't work - they worked well before and still hold up - but the game doesn't try anything new.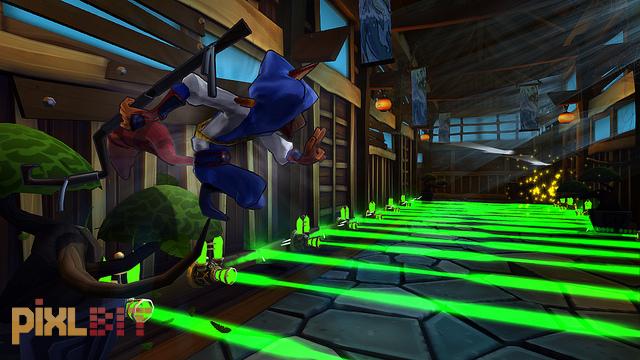 Sly has been gone from the scene for quite some time, getting his first game on the PS3 in the system's twilight months. Nostalgia will only take you so far, and I was hoping to see more "newness" in a game I've waited so long to arrive.
That's not to say that the game doesn't try anything new. Traveling through time offers the unique opportunity to play as a few of Sly's ancestors. Each new character is well developed (the oldest in the Cooper lineage - a cave raccoon - was good for quite a few chuckles) and is equipped with their own special ability that you'll wish Sly could utilize. In particular, I found the feudal Japanese flavor of Sly, Rioichi Cooper, possessed an ability that I very much wished Sly himself could used called the Ninja Spire Jump. This move would propel Rioichi from one spire point to another in a flash - shrinking the map and making travel and stealth that much more effective.
While players may yearn for Sly to posses the prowess of his ancestor's, the game does offer some consolation in the form of new disguises. The element of the disguise isn't new to the Cooper games, but they've never offered up anything beyond the ability to blend. This time around, each disguise - five in all - bestows a special ability that Sly can only use when wearing it. Certain jobs are built around the mechanic introduced by the disguise, but you can also travel in time to stages you've previously completed to open "disguise specific doors" that hide special treasures - giving the collectors out there reason to go back to each level later in the game.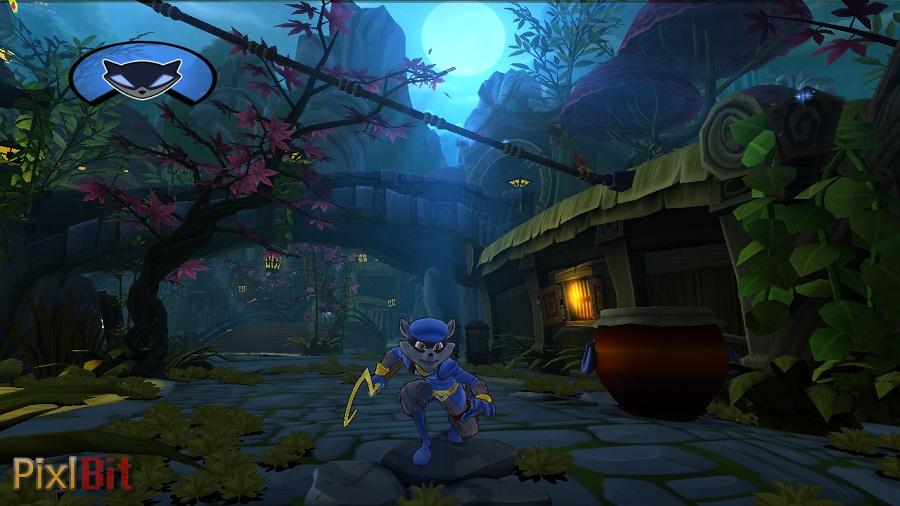 The Sly games have always been rather striking. The cel-shaded graphics have ensured that the series has aged well - the third still looks like it could be current gen - and Thieves in Time doesn't disppoint in its art style. That said, the levels do suffer from overuse of asset packages, making most areas on maps indistinguishable beyond a few standout set pieces. This made navigating for me a bit of a pain since everything looked so similar.
Enemies also suffered from lack of variety, having stuck the standard set of two roof dwellers and one bruiser per level. I understand the lack of variety in the originals, but the PS3 is a beefier machine. Since enemies are mostly just different graphical depictions of the same base models your strategy for dealing with them will never change through the game, leading to enemy fatigue the longer you play.
Bosses are wonderfully colorful and spout forth some of the best dialogue in the series, but won't challenge the player too much when it comes time to do battle. Figuring out their pattern of attack is rather simple, and from there its all about repetition, repetition, repetition. Slight variations appear here and there, but nothing that will force you to change your tactics all that much. You'll have to place personal challenges (perhaps trophy driven ones) in order to derive any real satisfaction in bringing them down.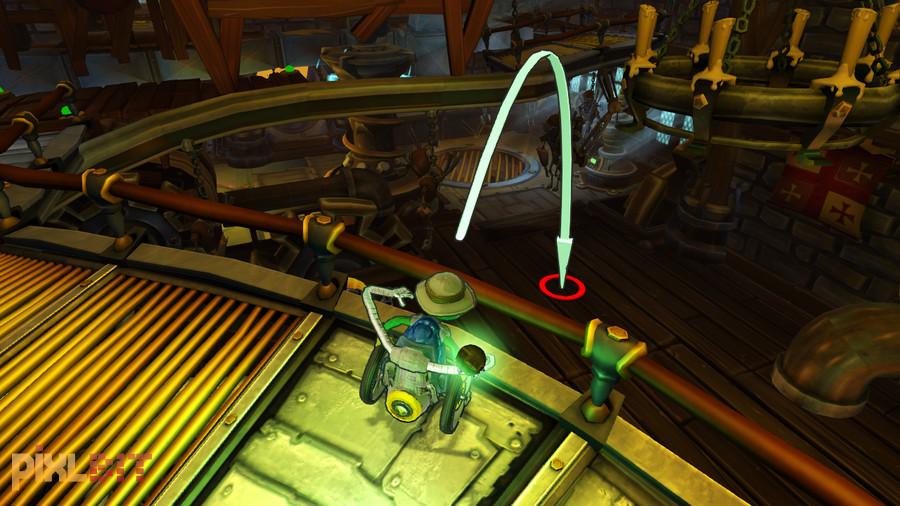 Thieves in Time is a labor of love. I hate nit-picking a title that was released below the $60 price point (coming in at $40 this game is quite the value). I hate it even more knowing that it's really a miracle that this game was developed and released at all, but it doesn't mean I can ignore its faults. Fans of the series can take solace knowing that my only real gripe is that the series hasn't really been brought forward - it's another iteration of the old - and that's perfectly alright.
It's a good game, and I urge PlayStation owners longing for a mascot game to pick it up. But next time - and here's hoping there is a next time - step it up. Instead of playing around in the past, bring the future to Sly and the gang.