Kingdoms of Amalur: Reckoning Preview
The hardcore RPG fan may have a new banner to rally around.
Starting life as an MMORPG, Kingdoms of Amalur: Reckoning has morphed into one of the more interesting original IPs to be released next year. The game is being developed by industry newcomer 38 Studios and strategy game developer Big Huge Games. These names may not carry much weight, but they have some serious big name talent working on Reckoning's game world, most notably being revered fantasy author R.A. Salvatore and comic god Todd McFarlane who have created the game world and artwork respectively. Lesser known, but still a heavy lifter in his own right, is Ken Ralston who was the lead designer on Morrowind and Oblivion.
With such a bevy of talent, it's easy to see that there are lofty expectations set for Reckoning. The task of living up to these expectations is daunting at best, but from what we've seen so far it looks like this game is well on the way to being something special.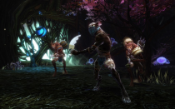 You play as a newly resurrected warrior--not the most original of beginnings, but Reckoning allows you to more actively participate in this process than past games, giving you a much greater sense of ownership over your character and their humble beginnings. Why your character was selected to undergo this apparently cutting edge process is not immediately clear, but it can be assumed that this will be made known through the natural progression of the plot.
Part of the resurrection process includes character creation. Reckoning's creation tools don't really stretch the boundaries of what had been created before and are actually more streamlined than the Elder Scrolls' options which allow you to customize nearly every square inch of your character's face.
There are four playable races to choose from: two types of elves (Ljosalfar and Dokkalfar) and two types of humans (Varani and Almain). Each race will offer a diverse level of character customization options and the expected racial bonuses.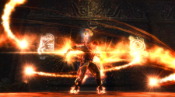 While little is known about the over-arching story for Reckoning, we do know that combat, something that you'll be taking part in quite often, is shaping up to be one of the game's stronger points. Offering a mixture of style and substance, Reckoning's combat will allow for a variety of different play styles and tactics to be employed. The key is learning how to string different attacks together to form devastating combo attacks. Moving from one attack or style to another is smooth, allowing you to change your tactics on the fly and better equipping the player to make use of different methods to dispatch their enemies.
In the current big budget landscape of sequels and reboots, Kingdoms of Amalur: Reckoning is a breath of fresh air that could mix up the AAA landscape when it is released next year. Stay tuned to PixlBit for more information on this title as we get closer to its release.