Uncharted: Golden Abyss Preview
Drake's handheld debut is so much more than a recreation of its console brethren.
Drake is capable of many superhuman acts. He can scale nigh impassable rock faces, he can run, gun, jump and punch – he can do all these things without exuding a single drop of sweat and with a clear conscience to boot, despite all the blood he has shed over the years. But all of this pales in comparison to what Sony is asking of him now. Soon we'll see what Drake is really made of and if he can move the PlayStation Vita off store shelves and into the pockets of gamers.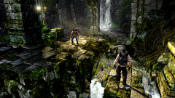 Drake's latest adventure, subtitled the Golden Abyss, has been developed by SCE Bend Studio with oversight from Naughty Dog. The game takes place sometime before the events of Drake's initial debut, Uncharted: Drake's Fortune. The player will guide Drake as he seeks to uncover the mystery of a 201-year-old massacre of a Spanish expedition. The action will take Drake to ancient ruins and caverns of Central America, as he searches for yet another legendary lost city.
Bend Studios may be in danger of abusing the old adage, 'If it ain't broke, don't fix it,' but they can hardly be blamed for sticking with a formula that has helped to rocket the franchise to the top of the PlayStation exclusive pantheon.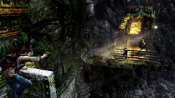 While the plot may not blaze any trails, Naughty Dog co-president Christophe Balestra has indicated that Golden Abyss will feature more exploration and less gunplay than previous entries in the series. This new focus has allowed Bend Studio the ability to explore some of the Vita's more unique features; chief among them being the handheld's touch screen.
It would be easy to limit the Vita's touch screen feature to menu navigation, which the developers have implemented here, but Golden Abyss really wants you to get handsy with your new portable. Drake will require your touch screen assistance in rubbing dirt off of ancient artifacts, rowing a boat, boosting partners up, breaking down doors, climbing, puzzle solving and more. The touchscreen can also be used to conduct combat, but purists will be happy to know that those features are not mandatory and you'll be able to fire off rounds using the tactile buttons you're so used to.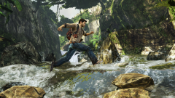 To a lesser extent the Vita's gyroscope, back touch panel and rear facing camera have also been utilized – effectively making Golden Abyss the poster child on how to implement these features into a traditionally 'hardcore' gaming experience. The blend of traditional and new age control mechanisms will allow for a myriad of play styles.
There are those that worry that have expressed concern that Drake's latest adventure would repeat the same mistakes that traditional console franchises experienced when making the jump to the PSP, but those seem to be largely unfounded. Developers have shown that they have learned from the mistakes of the past and are taking a different approach to ensure that what is considered old and familiar on consoles can feel new and fresh on Sony's new portable.
Uncharted: Golden Abyss launches alongside the PlayStation Vita on February 22, 2012. Stay tuned to PixlBit for ongoing coverage and our review.