Uncharted 2: Among Thieves Review
RECOMMENDATION:

All PlayStation 3 owners should at least play this game. If you're only interested in the single player mode, it may be tougher to justify a purchase, however, the game makes a compelling case for a second playthrough.

It's impressive to finally see gaming approach a level of complexity in character and story development that parallels what we see in most modern movies. After viewing the very first cutscene in Uncharted 2: Among Thieves I was immediately impressed. Never before had I seen character interaction, dialog, and nuanced expression executed so well in a video game. Uncharted 2 does a spectacular job engaging players in what amounts to be a ten hour interactive movie.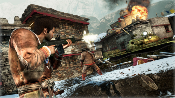 The game stars Nathan Drake, a treasure hunter with a carefree attitude who seems to do everything by the seat of his pants. For whatever reason, Drake strongly reminds me of Captain Mal from Joss Whedon's Firefly. He even bears resemblance to Nathan Fillion, Mal's real-life counterpart.
Like the Indiana Jones movies, a series Uncharted clearly takes cues from, the stories from the first Uncharted and Uncharted 2: Among Thieves are completely isolated, with the exception of a few returning characters. This means players can enjoy Uncharted 2 without having played Uncharted: Drake's Fortune.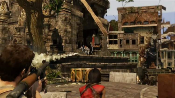 In this adventure, Drake, along with partner Flynn and girlfriend Chloe are hired to steal an ancient relic that once belonged to Marco Polo. Before going on the heist, the crew realizes that the relic contains a map to Shambala, home of the Cintimani Stone and the Tree of Life. As such they plan to overtake the quest, leaving their client high and dry. During the heist however, Drake is double-crossed by Flynn who makes off with a treasure map which was contained within the relic they were hired to steal.
Players will help accomplish Drake's latest quest of stopping Flynn and his associate, by performing a variety of tasks including third person shooting, puzzle solving, and Prince of Persia-like platforming. While the gameplay itself is an amalgamation of tried and true gameplay, what truly sets the game apart is the way in which it combines these various elements and integrates the epic landscapes and locales as well as the engaging story and characters.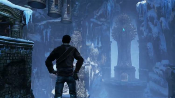 As mentioned earlier, Uncharted 2 is basically an interactive movie. It seems that Naughty Dog went to great lengths to ensure that players felt this way about the game. The camera is typically free roaming in most cases, but when certain sections are reached, the camera is moved to give a cinematic effect. The soundtrack sounds like something you'd see in a full motion picture, and the backdrops are so epic, beautiful, and full of detail, it's hard not to be wowed by the world that has been created. The scenarios presented also attribute to the big picture feel as they are often intense, suspenseful, and/or provoking in some way.
Two chapters in particular stand out, now that I have completed the game, and both are some of the finest examples of gaming I have seen in a very long time. Both feel like something that you'd see (practically have) in an Indiana Jones film. The orchestration of all of the moving parts is masterful, and the way the game makes you feel like you have a choice though it's very much all planned out, is impressive. I don't expect that either of these experiences will be topped any time soon.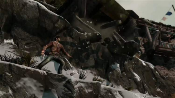 It's also worth noting that though Uncharted 2 is dressed as a third person shooter, it's an adventure title first and foremost. Shooting just happens to be a part of what Nathan Drake can do. The shooting parts are never overwhelming, and are always worked into situations where shooting feels like your only option. It's interesting how the game manages to accomplish this, and as such it never seems like you're shooting things for the sake of shooting things.
Though Uncharted 2 is without a doubt an excellent game, it's hindered by a single frustration: control. Oddly enough, the issue isn't particularly with control input, but rather the way that the game interprets those inputs. Because a number of the control inputs are context sensitive, at times the game will not do what you expect.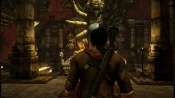 During heated situations, this becomes the most frustrating because it will often result in death. In other instances, you'll perform the proper action that the game is expecting, but it won't recognize that you performed it properly, resulting in confusion and death. In a few instances, I sat for upwards of ten minutes trying to figure out what to do, while all along I had already performed the proper action, but because the game did not recognize it properly the first time, I had assumed I had done it incorrect. While this is a frustration, it is in the grand scheme of things, a minor one.
Uncharted 2 also features a robust multiplayer mode that puts the concepts of the single player game into practice. Players will be able to go head-to-head with other players around the world, or can take on special missions co-operatively. Similar to Call of Duty 4: Modern Warfare, the game also has an upgrade and ranking system that players can utilize as they play the mode more.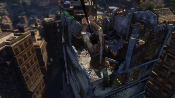 Though the multiplayer mode is focused squarely on the shooting and to a lesser extent, the jumping aspects of the game, it's still good fun to play. The mode rounds out the game's offering and gives players something to come back to, especially with its multitude of options.
Uncharted 2: Among Thieves is easily one of the best games on the PlayStation 3. New Slim owners should definitely consider purchasing this title along with their system as it is undoubtedly the must own title of the year.