PlayStation All-Stars Battle Royale Hands On Preview
More than a cookie cutter.
When Sony announced Playstation All Stars, fans of the developer and its long list of exclusive characters let out rounds of applause. Unfortunately, that applause was followed by a mildly depressed sigh of remorse for a game that looked to steal major portions of the Super Smash Brothers battle system. Luckily, players who have been able to get their hands on the beta of Battle Royale have come away with relief all over their faces.
I had the opportunity to play the Lollapalooza 2012 demo within the Playstation Tent. Located just north of the main stage, the tent was filled with unreleased games like LittleBigPlanet Karting and had lines running out the door. Located in the back with players standing their ground the longest had to be Playstation All Stars, due to the instant gratification from dealing out deathly blows. Instead of playing for just one round, players vegetated on comfy, leather seats and rugs for multiple battles while a live hype man kept the crowded room happy with frequent contests.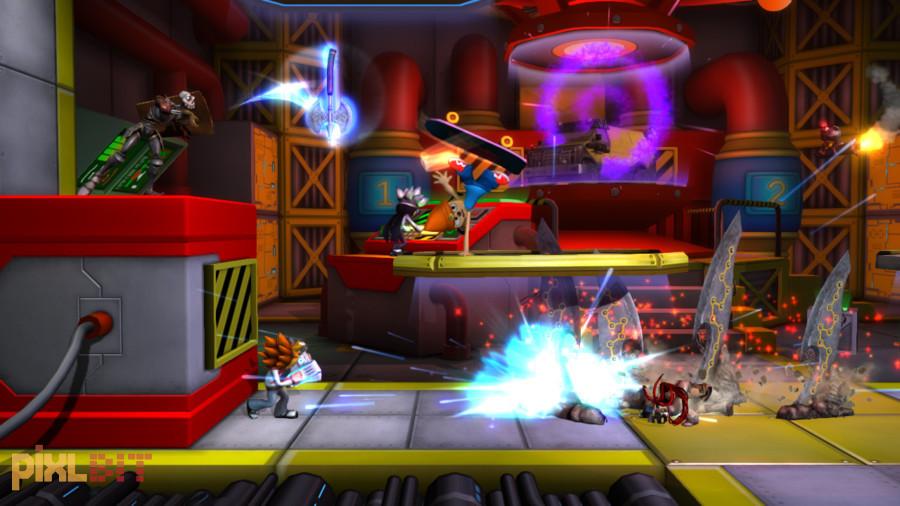 The demo's main draw was undoubtedly the simplified control scheme, which enables players of all calibers to instantly pull off flashy moves. Some characters, like Dante from Devil May Cry, can combo their opponents at their mercy. This shows an added level of depth through distinct playing styles. In stark contrast to Super Smash Brothers, none of the characters appeared to play as mirror images of any other characters. Of course, this can change as the roster expands, but the level of depth seen in the first few waves of characters should give fans every reason to remain excited.
The battle system also allows the player to defeat their opponents with three levels of finishing moves, which first need to be charged up. Charging takes some finesse, since it's done by hitting other characters. More advanced players like the developers of the game seem to use strategic, poking techniques with the lighter characters. On the other hand, novices usually lose battles by jumping into their fights too quickly, which would be a serviceable strategy if the game were less strategic. Good things similarly come to those who wait, because the level three finishing moves have some wild animations. For instance, when I played as Parappa, my level three turned the entire screen into a dance floor where the Rappa strutted. I was given some choices as to how the finishing move would end (I chose 'Cool') and all three other players poofed instantly from the screen. Couple this finisher with basic moves that use boom boxes and skateboards and you have yourself a powerful, influential character. Such is the power of rap lyrics and dance moves.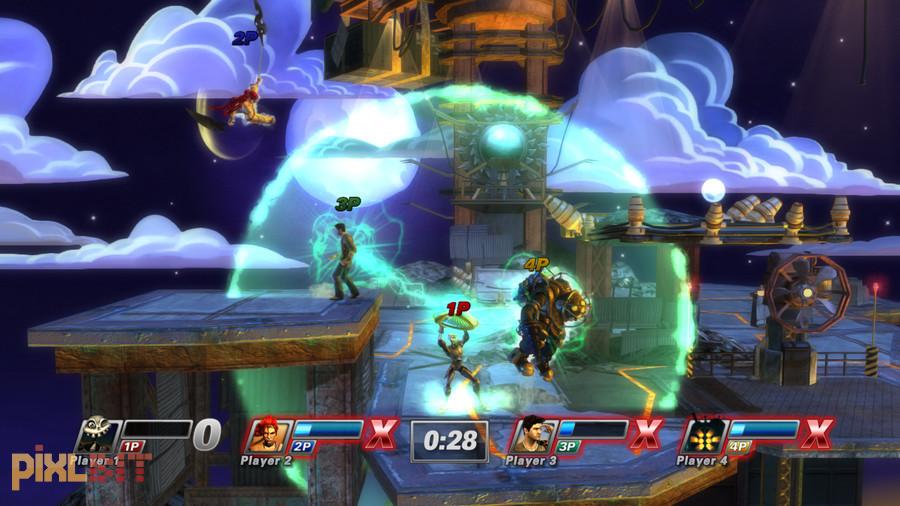 Even though the game undeniably has flash, some details such as those in the battle designs and level layouts will keep players coming back for the novelty factor. In the Buzz T.V. and Little Big Planet cross over level called Dreamscape, a tree with leaves inhabits the middle of the screen. While it is used throughout most of the battle for evading enemies, the host of Buzz T.V. also asks questions during the fight and players need to stay on the right leaf that has the correct answer glowing beneath itself. It turns the game from a battle royale into a variant of king of the hill for a short period of time. At the same time, more obstacles are created as the match progresses, just as you would expect from a stage influenced by Little Big Planet. Hopefully you will get Buzz's answer correct, or you will get a pie in your face. It makes the game more dynamic and adds yet another level of playability to a genre in need of novel ideas like these.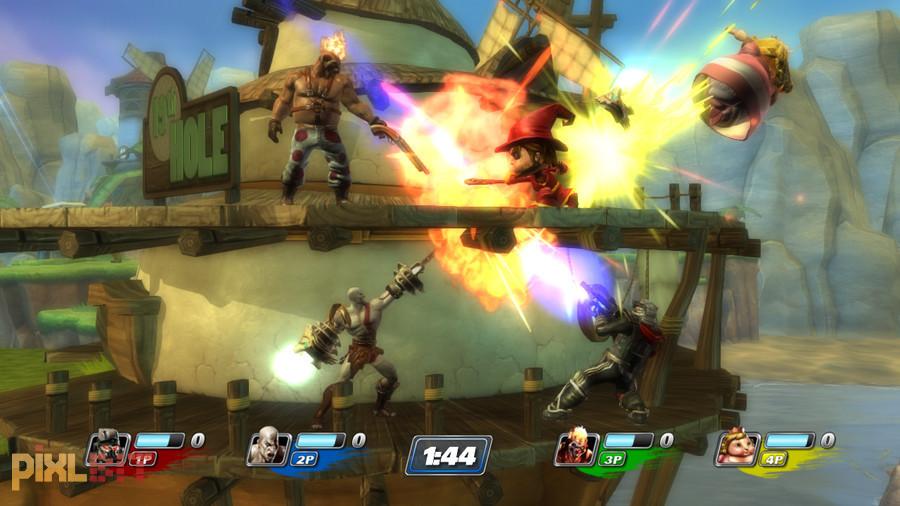 At least sixteen characters have been confirmed to tear up these hybridized stages so far:
Heihachi Michima from Tekken
Jak and Daxter
Kratos from God of War
Nathan Drake from Uncharted
PaRappa the Rapper
Sly Cooper
Sweet Tooth from Twisted Metal
Toro, Sony's Japanese mascot
Dante from Devil May Cry
Rachet and Clank
Sackboy from Little Big Planet
Spike from Ape Escape
Colonel Radec from Killzone
Big Daddy from Bioshock
Fat Princess
Cole McGrath from InFamous
Just hope that you won't have to enter the games with all of these characters, because the world will be watching and your bum would be handed to you. Let the games begin on November 20.