Assassin's Creed IV: Black Flag Preview
Yo-ho-ho and a bottle of rum!
After such a long and torturous wait, Assassins Creed fans finally get to walk the plank again. Director Ashraf Ishmael announced a new location and setting for the seminal franchise in an interview on March 4th, 2013. To be released on November 1 of this year for Ps3, Xbox 360, WiiU, PC, in addition to next generation consoles Ps4 and Xbox 720, Black Flag will be set in the 18th century Caribbean.This age of piracy should prove an interesting shift in the format laid by Assassin's Creed 2's trilogy: Assassin's Creed 4 will release after just one iteration to the series' third installment.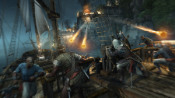 Our new hero, Edward Kenway, seems selfish and reckless like his grandson, Connor. Nevertheless, the developers believe these characteristics to be unique to himself. Connor, the quiet and powerful native, must not have been popular enough with the fans to be compared his successor. Regardless, Black Flag will be populated by famous pirates like Benjamin Hornigold and Blackbeard. Not quite the Casanova type in their own rite, pirates are as unlikely to find love interests as the lovable Native American.
Around sixty percent of the missions will include a land based element to their mechanics, yet most of the booty will include naval battles. Furthermore, the waters where our hero will battle include more diverse living creatures like doves and whales. Early signs point to Edward becoming as great a fisherman as his grandson was a hunter.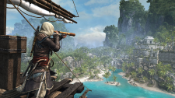 With a move that some might have felt would happen and hoped for eventually, the flash forward story element will now include the player as their character, instead of Desmond Miles. The finale to Assassin's Creed 3 did not leave much room for Desmond to continue, although his actions may have saved the world. Even so, many fans have reacted sentimentally to the bold conclusion. This shift in character could prove more immersive and is a logical plot development in the futuristic reality of its story.
The shift in character will also provide Ubisoft with the opportunity to add a co-op mode. Whereas the story would never have made since before if multiple assassin's were to drop in and out from one animus, mission director Philippe Bergon recently revealed that cooperative missions could now become a focus to the story. This immense shift from a mainly single player element is attempting to legitimize the multiplayer aspect, which will also mean a bump in the multiplayer quality.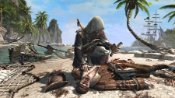 Finally getting recognized as the player who holds the weight of the franchise in his hands, it should feel empowering to become an explicit part of the franchise. Maybe taking the time to access the memories from the previous games will pay off for the more pessimistic critics to the franchise. While it does mean that this installment continues the serialization of Assassin's Creed games, the Ubisoft's ability to constantly reinvent themselves with new settings and gameplay elements, as well as new history lessons, allow the games to have important reasons for their publication.
In addition to the musings and interactive information sure to compliment the more than fifty unique locations, various current arguments for piracy and neurological research will be critiqued further through Assassin's Creed's ability to immerse the gamer into a world they would otherwise be unable to inhabit. The icing on the cake for this round of details: Black Flag will return to a more gritty, realistic and steathy tone on which the franchise built itself.
With so many new mechanics and shifts in ideology, can Assassin's Creed 4 escape the trap of being a yearly released franchise? The developers believe so. Each of us will have to decide for ourselves if the risk of accessing these memories is worth the investment of treasure and time.