Tom Clancy's The Division Preview
Giving a new meaning to Massively Multiplayer Online Shooters.
Ubisoft made good on last year's surprise of Watch_Dogs with another, this one known as Tom Clancy's The Division. One of the biggest draws about this title, besides the outstanding visuals, is the way that players engage with one another.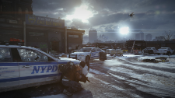 The premise of the game is nothing too original, but based on the type of game this is, it creates an interesting scenario. An infection has caused mayhem in New York and wiped out a huge swath of the population. Those who survived have been forced to group up and scavenge for supplies as they defend themselves from others doing the same. The game's overall plot surrounds you, and other survivors' attempts to find a cure for this disease, but the majority of the gameplay involves day to day survival, and smaller scale missions involving you and your group.
Unlike your typical shooter, this game is being sold as a third person, online, open world role playing game. Players will be able to team up to take on missions, as well as encounter other players who are doing the same. Ubisoft is aiming to make the experience as seamless as possible. With games like Journey setting the precedent with seamless multiplayer and Destiny also promising a cooperative shooter experience, The Division looks to add on to the list with its take on an online shooter experience.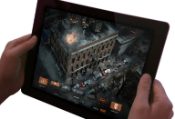 RPG elements are a big part of the game, but not in the traditional MMO sense. No, you won't be choosing classes or dedicated abilities, but players can level up and upgrade different skills and weapons (that they can re-spec at any time). Scavenging for items like water and parts are also a big part of the gameplay. Inspired by games like The Last of Us, Ubisoft is trying to convey a sense of scarcity. This means everything that you find is valuable, and could mean life or death in certain situations.
As stated earlier, multiplayer is a big component both cooperatively and competitively. In the demo, there was a two-man group wandering the streets aided by another friend who was using smart glass to man a flying turret that can actively take out enemies in real time. The group was challenged with fighting your standard computer controlled enemies, but the real interesting part was when another group of human controlled players encountered the players headlining the demo. Though it faded out before their battle, the idea that danger could be in any form is an exciting concept. Players will likely form their own clans, or groups that will fight over supplies and ammo, and that threat will likely be one of the most riveting parts of the game.
The Division is definitely a unique take on the shooter and RPG genres. Not only does it ground the online RPG with a more realistic and survival tone, but it still retains the cooperative and competitive nature that we've grown familiar with. I was very impressed with what I saw, and I'm looking forward to seeing more when it comes out in 2014 on the Xbox One and PlayStation 4.