The Legend of Zelda: A Link Between Worlds Hands On Preview
The latest in the Zelda series continues to impress.
Zelda fans should already be excited for The Legend of Zelda: A Link Between Worlds, but I am hoping that everybody gives it a shot. Traditionally, the 2D and handheld Zelda games have never really grabbed me in quite the same way as the now-standard 3D titles. After getting some hands-on time with A Link Between Worlds, I got right into it, and didn't want to give it up. Running at a smooth 60 FPS, the game is both technologically and visually stunning. The dungeons are varied and provide thought-provoking challenges to overcome. While I wasn't stumped by anything the game threw at me, I still needed to stop to evaluate the situation a few times in order to make progress.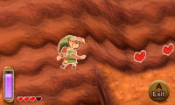 Weapons are handled a bit differently this time around. Rather than each weapon having its own stock, they all draw from a meter that depletes after repeated use. This gauge refills overtime, which prevents from unlimited use, but also streamlines item usage for veterans and makes it more accessible for newcomers.
Eiji Aounuma hosted a panel to discuss new features and elements, as well as the story of the game. Earlier this year they revealed that Link can travel to another world reminiscent of the dark world. This dark world was revealed to be appropriately titled "Lowrule". Lowrule is different than the dark world, but it shares similarities, like the over world theme song. Lowrule also has its own Castle and a Princess, named Hilda. A new villain was also shown, but detail on him is scarce.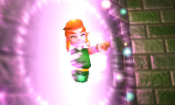 A new feature that I didn't get the chance to try was item rental. In this title, rather than getting items during a dungeon, you have the ability to purchase each weapon right from the get go. However, each item is expensive, so players can rent each of the items for a low price. The catch is that if the player gets a game over, those rented items are lost and must be re-rented or purchased.
Overall, this new 3DS entry seems to be headed in the right direction. I'm looking forward to the game now more than. Look out for the game on its November 22 release.