Bayonetta 2 Hands On Preview
Wii U's sultry seductress.
This should come as a surprise to no one, but Bayonetta 2 is ridiculous. I fought on a Jet Plane, jumped across crumbling buildings, and created a gigantic dog monster to devour a boss within my ten minute demo. I loved every second of it.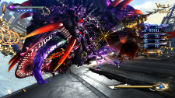 The game boasts smooth and refined gameplay that felt way better than I expected. I don't remember combat in the first Bayonetta being as smooth and satisfying as it was in this demo. Switching weapons on the fly, dodging at the right moment to slow down time, and executing brutal combos was familiar and fun.
The combat is complemented by a smooth frame rate, which Platinum hopes will reach 60 FPS in the final release. Graphically, the game is pretty amazing to look at. Things are happening all the time at a fast rate, and sometimes so many things went on that I lost track of my own position on the screen. During one sequence, I was fighting an enemy that took to the skies. Bayonetta created wings from her hair, and I was doing battle with a gigantic creature while flying at the same time. Combat worked the same as it does on land, but this sequence showed me exactly the type of game this is going to be. The people behind the game once stated that they want this game to be even crazier than the original, and I can assure you that they are on the right track.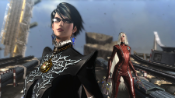 One brand new feature to take note of is the easy "Touch" mode. This mode allows players to execute combat on the touch screen. It simplifies the gameplay greatly, but players looking to preform specific manuvers or master the intracicies of the combat would opt for the button controls, which were very comfortable. Unfortunately, the Gamepad isn't going to be doing much else to add to the experience, as it generally replicates the action going on on the main screen. That being said, playing off-screen won't be a bad option, as it translates over to the gamepad well.
While it was a bit disorienting at times, I still had a blast. Fans that enjoyed the first Bayonetta and also own a Wii U are in for a treat come 2014.