Exciteburgs: Trick Flying Hands On Preview
Time for humanity to get Excited again.
If you don't remember Excitebots: Trick Racing on Wii, you're not alone; very few picked up this wacky racer, dooming any chances of an Australian release (sorry, mates). After finally giving it a second life on the Wii U's eshop late last year, Nintendo has decided to bring the series to Switch in a hot new direction.
Instead of insect bots or big dang trucks, we have the pleasure of controlling the massive dirigibles, once discarded as impractical death traps nearly a century ago, now the perfect way to race in the HD era. Don't let their poor reputation for fiery, horrific deaths scare you; the Exciteburgs are just as rad as the bot racers and can perform all kinds of aerial spins, suicide ramming attacks, barrel rolls, side-drifts, and that's more than enough to keep the party going once the thrill of an open-world Zelda starts to fade.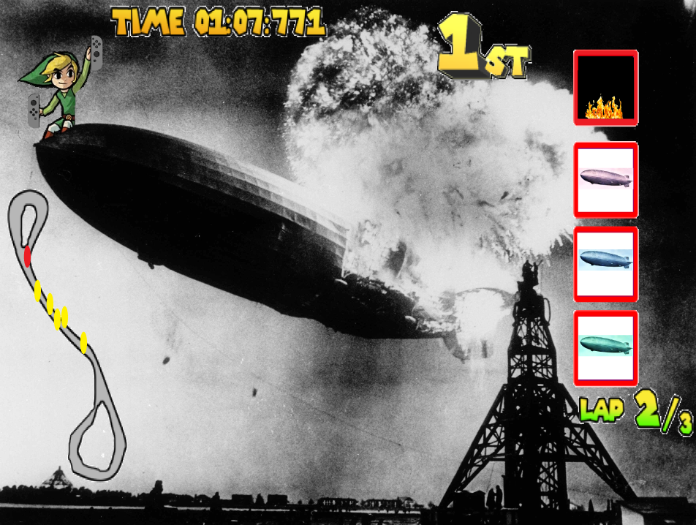 Each race "course" is designed around a 1930's theme with the classic Nintendo touch. For instance, you'll soar above hobo Toad families living in Hooverville shacks, past child laborers on Death Mountain covered in soot from working the mines, past Mario 3 airships trying to take you down, and even a course that forces you to dodge a series of Luftwaffe raids on London (rebranded as New Donk City). Exciteburgs really takes you right through the action while trying not to get too serious.
The joycon perfectly captures the thrill of soaring capriciously through the air, although it's a bit tough to turn, as I imagine the real thing would be. You hold out one joycon vertically in front of you like a joystick and hope it properly glides around buildings without going down in flames. The other buttons don't do anything, so you just have to hope it moves in the right direction and hope that the air currents don't completely throw you off course. Hope is a word you'll be muttering a lot in this game. I hope I can refuel without crashing. I hope I don't crash into that hot air balloon full of innocent young Yoshis. I hope that Gerudo pirate airship doesn't make a hijacking attempt. I hope I can safely pull off enough aerial dives to beat back Hitler Bowser's annexation of Kirby's Dream Land (it's one of the story mode's hardest, and most uncomfortable levels).
The trick stunts are just as fun as they were 7 long years ago when Excitebots first stole our hearts, but everything about it is made harder with the one-hit deaths. Flying through rings to pick up points, smacking all of the birds in a V- formation for points, destroying enemy Exciteburgs, knocking down radio propaganda antennas, it's all for the almighty points, which can overturn a second- or third-place finish in your favor. But again, you have to do it all without catching fire and watching your racer burn a fiery death. It's kinda unsettling, yet kinda exciting in a way that Mario Kart 8 Deluxe can never hope to be. Count me as excited to play the final game.


#Aprilfools