Kirby's Epic Yarn Hands On Preview
Whipping > Eating.
Kirby may be pink in his upcoming title, Kirby's Epic Yarn, but he's anything other than the familiar pink pudgy ball that many of us grew up with.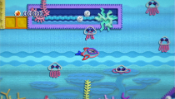 Though Kirby himself has gotten a brand new makeover, the game doesn't stray too far away from its roots. While players aren't going to find themselves wandering through Whispy Woods, they are in for a whole new unique experience where the gameplay is rivaled only by the art style.
Continuing on that thought, the art direction in Kirby's Epic Yarn is nothing other than amazing. Set within a world comprised entirely of yarn and material, every aspect that players will encounter is a unique experience.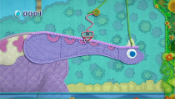 One of the first things I noticed immediately was the lack of Kirby's ability to suck in air and float/fly around the level. Instead, Kirby has traded in his ability to stuff himself full of massive quantities of air, for a whip-like strand of yarn that is used to perform a multitude of tasks.
To defeat enemies, players will toss the whip, which promptly unravels the enemy, and depending on the type, may even curl them into a yarn ball that can be used to defeat other enemies or break obstacles. Certain blocks can also be unraveled using the whip, but the best part of the weapon that I experienced was using it to attach to objects on screen.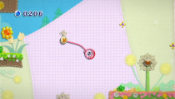 Some of these objects are merely sticker like squares, that when peeled away reveal hidden gems, stars, and even chests containing treasures (of which there are three contained within each level). Around each level are also attachment points that Kirby will use to latch his yarn whip onto in order to perform action such as scrunch the on-screen fabric in order to make a platform closer, or swing off of.
Interacting with the environment was incredibly fun, but some of the best moments were those when players can go behind the fabric. Appearing as a little bump in the fabric world, Kirby will go from foreground to background in order to reach new areas of the level in search of treasure, gems, and stars.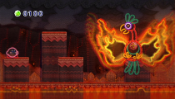 Collecting the three items seemed to be a major task within the game, and although I spoke to the representative as to the exact purpose of the items, he couldn't give me a definitive answer, only speculation. So, perhaps the gems will be used to open new worlds eventually, or perhaps players will need a certain amount in each level to move on. Right now, I unfortunately couldn't tell you.
What I do know, is that at the end of each level, the Kirbys come out and do their classic jolly dance, and though I couldn't hear it myself, I was assured that the song they dance to is the same one from the NES Kirby.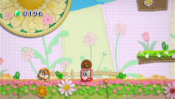 Though everything about the game that I had the opportunity to experience was great, none was better than the 2-players co-op play. As New Super Mario Bros Wii has proved, playing with friends and family only increases the enjoyment of the experience (most of the time anyway). As the representative and I so intensely discussed, similar to New Super Mario Bros Wii, players can either take on the quest together responsibly, or make it an epic quest to see who can annoy and thus kill the other character first.
Thankfully, sidescroller and Kirby fans will not have to wait very long for this title as it will be releasing this year.