Monday Night Combat Review
RECOMMENDATION:

For fans of tower defense and/or Team Fortress 2.

One of the titles in this year's Summer of Arcade promition for 2010 is an interesting little arena combat game, Monday Night Combat. The game is what I would describe as a third person crossover of Team Fortress 2 and a tower defense game. Though not apparent at first, Monday Night Combat is a deep experience, and given the material from which it draws inspiration, this is not unexpected. While the title is only comprised of two unique modes, players will find the most enjoyment in the Crossfire mode of the game, where they are teamed up with and facing off against a group of human players.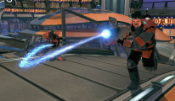 Players start the title in the game's Blitz mode, which at its core is simply a tower defense game in a third person perspective with the ability to use a set of weapons in addition to setting up towers. Through use of both abilities, players will need to keep waves of enemy attack robots away from their money ball, which is conveniently placed at the center of the stage. Similar to the wide swath of tower defense games, defeating enemies will net players money, which they can use to either beef up existing towers or build new ones to combat the next wave of enemies.
Dissimilar to most other tower defense titles, players can also upgrade their own skills with the money gained, making their weapons stronger, their health better, and their flight time longer. Flying, of course, is another unique ability reserved specifically for Monday Night Combat.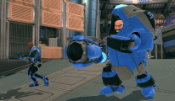 Overall, Blitz mode leans a bit towards the tedious side, given that it features only a single level and neglects to include the unique team elements found in the game's other mode.
As stated, the game's Crossfire mode is what truly stands out in this relatively slim package. The same basic rules from Blitz hold true here as well; players will collect money by defeating enemies, towers can still be built to protect the money ball, and players can also jump and fly around and upgrade their various skills. Where things differ is in the mode's core set-up.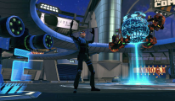 Crossfire is a team game and like the popular Team Fortress 2, players can choose from a variety of classes that bear a striking resemblance to those featured in the aformentioned title. As a team, players must push into the enemy base and destroy the money ball in order to win the match. This is accomplished by both defeating enemies and their towers, but by also directing a set of robots into the enemy base. These robots are the same found in the Blitz mode and all of the robots have a unique strength or ability. Most often they act as mere cannon fodder so that you can destroy your enemies, but are ultimately necessary to make the money ball attackable, as players can't do this without the assistance of a bot.
To further complicate the formula, players must manage their funds throughout the game and decide when it's worth upgrading their skills, building a tower, or deploying bots. Mix this in with the different classes and each player will likely have a completely unique play style that can be adapted to the conditions of the game.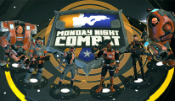 As players earn more money they can exchange that cash to build out their character's skillset. This has a tendency to throw the balance off to extremes with certain characters. One of the most noticeable issues lies with the Spy class who can be extremely annoying during a match due to how their moves and attacks work together. Players manning the character can stay cloaked for excessive periods, and once they are behind a target, they can execute an instant-kill on their enemy. As you might imagine, this move is spammed throughout the match, creating nothing more than frustration.
Additionally, with a small number of maps to choose from, the game's singular concept wears thin over time. Given the similarities to Team Fortress 2 and a large variety of tower defense titles, Monday Night Combat has a "me too" feeling about it. The game undoubtedly has its moments of pure enjoyment, but generally speaking, it's unlikely that players will spend more than a week with the title before growing bored of the game's entirely original, but strikingly familiar gameplay.
Those looking for a solid team game can't go wrong with Monday Night Combat, but for most, a week with the title will be enough to convince players to move on to the next game. For others who can obsess over a single game, there's no question that across all of the in-game classes there's a significant amount of content to explore, particulary for those looking to increase their gamer score.