Marvel vs. Capcom 3: Fate of Two Worlds Review
RECOMMENDATION:

The X-Factor, the ease at which a zoning character can be picked up, Sentinel, and some online issues prevent me from whole-heartedly recommending Marvel vs. Capcom 3 to everyone. Still, there are two universes of fun to be had, so anyone looking for a new fighting title should almost definitely consider Marvel vs. Capcom 3.

Since fighting games, like the ones in Capcom's Vs. series, have several entirely different audiences, I've decided to take a different approach than normal in my review in hopes of catering to the multiple groups of people to whom these games appeal.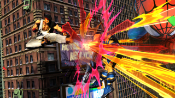 The Basics


Marvel vs. Capcom 3 is a fast-action, rushdown fighting title utilizing extensive, multi-hit combos to deal devastating damage. The game has 36 characters available to play as on the disc, 18 hailing from Marvel, 18 from Capcom's properties. A loose story ties together two universes as they fight to save the planet from some mysterious ultimate foe. There's a simple arcade mode, with several rounds against random teams of fighters that increase in difficulty with progression, ending with a fight against a rather challenging boss, as far as the massive Vs. games bosses go. A standard two-player Vs. mode exists and operates as expected, pitting two players, each choosing three characters, against each other, with handicaps, time, and damage settings selectable. Naturally, as is custom for fighters, there's a training mode with all the bells and whistles that allow players to explore the game and learn combos.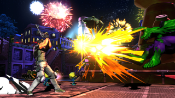 Through the usage of points, which are rewarded when players do almost anything other than look at the menu, various galleries of character art, concept art, movies, and sound tests are unlocked, as are a minor handful of playable characters, online titles, player accolades, and trophies. The system works well, offering a degree of reward without overdoing it, unlike earlier versions of Marvel vs. Capcom 2, which required players to unlock the bulk of characters through extensive amounts of gameplay. After several hours of gameplay, I've come nowhere near unlocking all the extras and bonuses, all of which are a nice addition to the core Marvel vs. Capcom fighting gameplay.


Presentation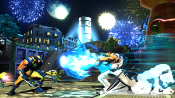 Every character is fleshed out with a degree of perfection meant to match each individual's characteristics. Zero's attacks and combos mimic the abilities he utilizes in later Mega Man X games, Captain America has attacks that let him charge forward and block projectiles. A newcomer, Arthur, from Ghouls and Ghosts, is able to throw the full array of weapons from his original title. Deadpool has a super combo that breaks the forth wall, as he swings his health bar to deal a massive volume of damage. There's no lack of references and rarely an aspect of a character that goes untouched through his or her move pool, costumes, pre-battle taunts, or post-battle victory speeches. Make no mistake, Marvel vs. Capcom 3 sets the bar for traditional fighting game characterization.
Marvel vs. Capcom 3 advances presentation to a new level, as well. The voice acting is, in my opinion, much higher quality than that of preceding titles, and heightens the in-game atmosphere to an unexpected level. Upon tagging in a teammate, the character switching out calls out his or her ally by name. Beyond this, the game is visually stunning and runs as smooth as could be hoped. The opening cutscenes set a high level of expectation, and the smooth gameplay does not disappoint. At points, the onscreen action is nothing short of absolute, beautiful chaos, yet the framerate has yet to stutter to any noticeable degree.


The Engine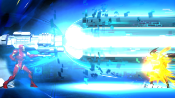 Marvel vs. Capcom 3 brings over an altered version of Tatsunoko vs. Capcom's attack engine. Rather than assigning any individual button as "Punch" or "Kick," there's simply light, medium, or heavy buttons. For nearly every character, a basic combo can be executed from pressing the light attack button, then the medium, then the heavy, followed by the "Special" attack button, which has a main use in knocking opponents to the air and spiking them back down. Intermediate combos can be performed following the same basic system, adding in low attacks and special moves to increase devastation. The most radical change in the engine is found with more complex combos: Rather than limit the attack chains of characters, hit-stun depreciates with each additional attack. In execution, that means the first time a character is sent into the "knocked-back" animation, the delay before recovering in the air is lengthy, but in a ten-hit combo, this delay is much briefer. Once the hit counter gets up to twenty or thirty, there's much less room to carry attacks. Naturally, the timing varies from character to character, and there are very advanced chains that take advantage of assist attacks from other players, allowing even larger combos to exist. All-in-all, the system works very well in providing any character the ability to string together lengthy chains of combos and deal life-threatening levels of damage without allowing many infinites.
New to the game is the "X-Factor," meant to create close matches and allow comebacks for players on their last ropes. Slightly similar to the "Baroque" mechanic in Tatsunoko vs. Capcom, the X-Factor does allow new chains in combo strings to exist, but it does so at no cost to health that could be recovered. To the contrary, actually, the X-Factor allows a character on the battle field to recover his or her red health rapidly, while simultaneously upping a character's strength and eliminating the chip damage special attacks typically deal. Normally, as a combo's hit counter increases, the damage any individual attack deals decays, except when the X-Factor is in place. Utilizing the X-Factor, with the increased damage, 100% combos are not only possible, in many cases, they're relatively easy to execute. While the X-Factor can be used once in a battle by each player, its duration is increased with each defeated team member, lasting only ten seconds with all three characters in play, twenty with two, and thirty with just one. The X-Factor can unquestionably impact and redirect the flow of a fight in MvC 3.


Online?


There's an online mode with ranked matches as well as player fights, where the former pits player against player only once, but allows players to move up a ladder with additional fights and wins. The latter lets two random fighters match up and play until either one decides to quit, though no ranking credit is given. Additionally, there's a lobby mode which allows players to invite up to eight friends and allow randoms to fill in extra slots. In this mode, the winner continues playing until he or she receives a loss, and only one battle can happen at once. Unfortunately, the lack of ability to spectate in the lobby is downright frustrating at best, since, in a full lobby, while two players fight, the other six are left to just wait (and chat, if headsets are used.) Oddly enough, it seems impossible to intentionally enter a "Player Match" type game with a friend, so the quick "Rematch" option will always be unavailable for anything but local players and randoms. Still, since lobbies can be made private and set for two players, it's easy enough to connect with whomever you desire and have a good time.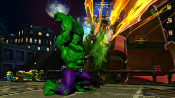 My experiences online have been uneven, to say the least. Online lag has ranged from negligible to terrible, from play session to session, lending me to suspect that at some points in time, the game's server is getting slammed, given the newness of the title. Connecting with someone for a ranked fight seems to involve random chance. Over half the time I choose the mode, I'd see a message saying I was unable to connect, and rather than asking to try again right then, the game reloads the "Online Mode" menu, which takes a bit too long for my liking, given the frequency of the error. Unfortunately, upon connecting with another player, both sides then choose their characters, a process that seems out of place and stalls the match even more. Upon the end of the match, a player's data is updated based on their character selection and performance, a process which again can take quite some time.
Fortunately, choosing "Player Match" alleviates many of these issues. After each match, a "Rematch" choice is available, and if both players select it, a new match begins immediately, no reconnections, character select screen, or data update occurs. Still, making a connection here was hit or miss. I actually had more success finding a match by entering training mode, which, like arcade, allows a player to open himself up to either ranked or player matches. After beginning the training round, only a matter of seconds would pass before I connected to someone and we were choosing our characters. Still, for some reason, after each individual connection, I was forced to select my team and the opposing training team once more, rather than transferred back into the training room I was in prior. For such a fast-paced game, connecting online seems very slow, which could either be from poor online game design or busy servers.


For Beginners?


Given Marvel vs. Capcom 3's high level of presentation, streamlined combo system, and great deal of characterization, I believe Marvel vs. Capcom 3 would make a great title for beginning players interested in the fighting genre. A roster of familiar and obscure faces gives players a great opportunity to have fun playing as the super heroes they love. Even more, there's a simple mode giving access to some basic chains and special attacks without requiring complicated D-pad/Joystick rotations. Marvel vs. Capcom 3 is without a doubt one of the easiest traditional fighters to approach and enjoy if one has little or no experience with the fighting game genre, provided said person isn't playing a skilled, more experienced player.


For Intermediates?


Those with genuine fighting game experience, but whom wouldn't consider themselves masters of the genre, might have second thoughts about MvC3. Characters who "Zone" well, like Arthur with his many weapons, or Amaterasu with her "Cold Star" ice-firing attack will present annoying walls for many at the intermediate level. Characters that zone well are defeatable, absolutely, but the methods to overcome rapid-fire projectile attacks will take time to master, despite how simply these methods are learned. Additionally, I felt as though the X-Factor allows maddening levels of comebacks, where otherwise, a player would lose.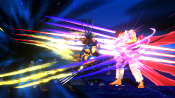 In many cases, I found myself tempted to just let two characters die and fight using my third character, powered up by the X-Factor. When one X-Factor is activated, the game becomes a short round of keep-away, and if both players have X-Factor on, it's a matter of "Who hits first?" For me, the X-Factor is an unwelcome addition to the game, especially given that nearly every character is already incredibly powerful. Other than the disparate returns in ability for a few characters and the X-Factor, there's still a lot of tense, back-and-forth action to be found within MvC3, and I definitely have to recommend it for the typical fighting game enthusiast that isn't quite at the top of his or her game.
For Competitive Players?


This isn't really a question to ask in a review. Whether or not the game becomes a something seen in a competition depends on a number of factors, and already, a handful of the best fighter gamers in the world have announced displeasure with the power of the X-Factor and the unbalance of Sentinel, among a few other things. Those looking for a title with perfect balance likely will want to look elsewhere, but that doesn't mean the game won't hit the competitive circuit due to sheer popularity, just like its predecessor.
I played the Playstation 3 version of Marvel vs. Capcom 3. The Xbox 360 version may contain an entirely different online experience.