Dynasty Warriors 7 Review
RECOMMENDATION:

Only for die-hard Dynasty Warriors fans.

I'll be honest; I don't know much about the history of the Dynasty Warriors series, so I can't provide you a comprehensive look at the differences from the last iteration of the series. From what I understand, there have been a number of improvements, including a more directed story experience with better character development, better graphics, more varied characters, and the inclusion of weapon machinery that can be utilized in battle. From a newcomer's perspective, the additions don't seem to make the game very interesting. Players can expect hours upon hours of grinding through underpowered enemies with little to break up the experience and keep it fresh. Having played the game side by side with Samurai Warriors: Chronicles, it's clear that Dynasty Warriors doesn't have the same flair as its spin-off series.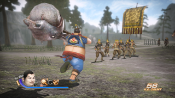 Being that both Samurai Warriors and Dynasty Warriors are such similar games, it was hard for me to pinpoint what was to cause such a disparity in my enjoyment. As it turns out, the objectives were the main cause of my dissatisfaction with Dynasty Warriors. In Samurai Warriors, while you are doing the same thing (hack 'n' slashing thousands of enemies), the objectives there were always evolving and changing and were extremely varied. Dynasty Warriors 7 is more straightforward, with simpler objectives and less sudden new objectives to complete.
The resulting gameplay is much less interesting, leaving you to look forward only to button-mashing your way through more enemies. Even in co-op, both locally and online, the experience still feels flat and lifeless. Part of the problem, I'm sure, has to do with the sheer amount of content in the game. While playing through the Chronicles mode, the game shows you a honeycomb map that you must progress through; it's enormous. That daunting sight makes it that much harder to get through the bland, unchanging battles.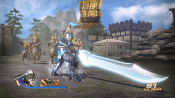 Even worse, Chronicles mode is more of an ancillary quest, leaving the entire main quest of more of the same to work through. While Dynasty Warriors fans will love the avalanche of content, everyone else will likely grow tired of performing the same tasks ad infinitum.
In terms of difficulty, the game seems to always be one step ahead of you, forcing a replay of particular challenges in order to level up your character and earn new weaponry, both of which will stick with you regardless of losing the battle. Needless to say, replaying the same mission that feels the same as the other missions is doubly frustrating and downright unappealing.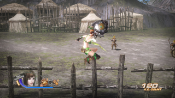 The game earns its only points on having a plethora of weapons and fighters all of which slightly vary the fighting experience. In very short bursts, the game can be tolerable, but with a number of preceding titles with exactly the same gameplay, it makes no sense to spring for the latest when the rest are more than sufficient.
It's hard to say much more about Dynasty Warriors 7. You run around and hack 'n' slash enemies, completing objectives based around killing enemies, particularly the more adept captain enemies. The rest are merely speed bumps that slow you down but offer no challenge. The overwhelming amount of content only further turned me off from the experience as I had no desire to complete all of it in order to beat the game.
If you want to try out the Warriors series, stick with Samurai Warriors. It's far more dynamic and with co-op included, it's good fun with a friend or family member. Dynasty Warriors 7 is best left to its staunch supporters who will undoubtedly love more of the same. And there's nothing wrong with that – the experience just isn't for most gamers.