FIFA Soccer 13 Preview
Finally, the player can talk back.
In a defensive style at their E3 press conference, Electronic Arts announced FIFA 13 for Playstation 3 and Xbox 360 with Kinect. Like a penalty kick, you probably did not see this one coming since last year.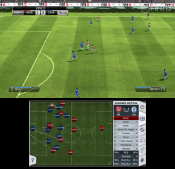 FIFA 13 is set to continue EA's dominance of football throughout the world with five features that will enhance your playing experience even further. Specifically, EA Sports has created and refined a social experienced called 'Football Club," which will add purposeful ways to compete with and against your friends. Players earn rewards from leveling up their profile based on the number of challenges that they have completed. EA Sports has capped the player's level of experience at 100, wherein everything from your main club to your personal pro will be maxed out and at the top of the league.
While most of FIFA's most recognizable and successful features have returned, they have all benefitted from another year of development. The team has built upon last years golden game with more tactical free kicks that allow the controller to position up to three strikers near the ball. This added strategy can confuse opponents and give an additional amount of precision to set pieces, while defenders can be added or subtracted from their wall to counteract the offense's strategy. This element of the gameplay adds a more realistic level of immediacy to the pitch. Since players like David Beckham have turned themselves into legendary masters of the free kick, this is a welcome and natural evolution to better recreate the game of football.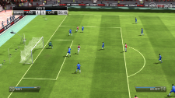 On the same team as this polished level of immersion to free kicks, the impact engine has been expanded as well. Instead of only having a realistic impact on the ball, collisions off-the-ball have been improved. As if FIFA wasn't already a defensive game, this addition to the simulation will make defenders even more powerful. The First Touch control emphasizes that teammates take the best path to the ball, because poor passes and weak wrestles for the ball will also give power to the defender. Using size to gain possession will become one of the subtler elements of strategy in top-tier games like never before in FIFA 13.
Nevertheless, the most innovative and important feature to the future of the sports franchise has to be the announcement of Kinect commands. The Xbox 360's version of the game will come with voice commands enabled for all those who have connected their Kinect. The dynamic between teammates will be drastically improved when the game releases, due to the ability to speak directly to your players. Changing tactics, switching formations and everything in between will effortlessly command your players without needing to pause the game. And finally you will be able to argue with the referee for handing out a ridiculously uncalled for yellow card.
Hold your red cards up quickly, refs. We'll have to be suspended after the onslaught of verbal abuse.