Mutant Mudds Preview
Classic action-platforming with a 3D twist.
While not many have had the opportunity to play the Virtual Boy, Renegade Kid's latest work is oddly reminiscent of Nintendo's misfit system. Back when the Virtual Boy launched, it touted its special 3D capabilities; these boiled down to little more than multiple viewing planes, which gave the illusion of 3D. The most memorable games used these multiple planes to create deeper platforming experiences. Taking a cue from these experiences, Mutant Mudds allows players to jump between the current plane, background, and foreground.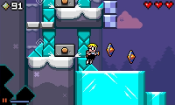 While black and red was all the craze (not really) back then, Mutant Mudds applies the much preferable faux-retro look that lands somewhere between an 8-bit and 16-bit game; 12-bit to be precise, if you ask Renegade Kid.
The main character, Max, can not only bounce back and forth between the game's three planes - he can also run, jump, crouch, shoot a portable water cannon, and hover for short periods of time thanks to a water-powered jet pack. All this water gear equips him well for defeating the titular Mutant Mudd army.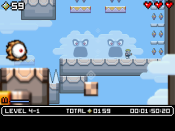 Like many old action-platformers, players will have to use the weaponry on hand to defeat enemies, while avoiding others and traversing the 2D landscape. Given the multi-plane design, many of the enemies in Mutant Mudds are able to cross planes to provide a visually interesting and unique challenge. Other enemies like the Blower will force Max into the foreground if he crosses his path at the right time. With 13 known enemies players will have plenty to contend with throughout the game.
Mutant Mudds features a total of 40 levels spread across five unique worlds. One such world features an ice theme, making things a bit slippery. Combine this with abundant death spikes and enemies and you're looking at quite a treacherous challenge.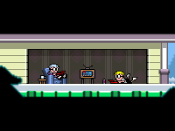 It likely won't make it any easier to grab the game's two collectibles either – the optional Golden Diamonds and essential Water Sprites, which mark the end of any given level. The regular levels in the game are host to 100 Golden Diamonds, which should provide completionists with something to work towards as they press on through the game.
Debuting this Thursday, January 26, 3DS owners will be able to grab Mutant Mudds on the Nintendo eShop for just $8.99.